Red Meat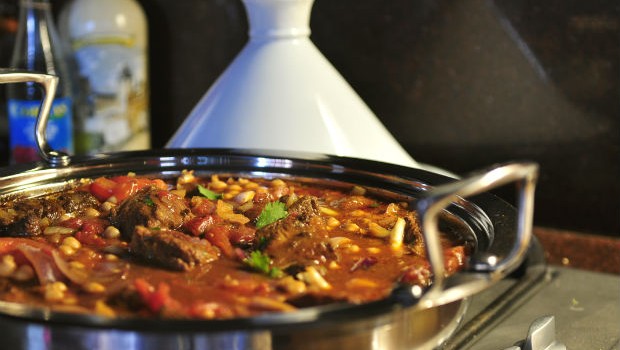 Published on September 4th, 2013 | by Gareth
0
Moroccan beef tagine
"Morocco, yes, I fancy visiting Morocco". This was one of the responses I got from Nina when we were discussing future travel plans for 2015. Isn't planning half the fun?
Morocco would suit me, I've considered visiting there a few times though I'm not sure whether it was the influence of Beau Geste or Anthony Bourdain's Cook's Tour, (suspect the latter). Anyway, this conversation coincided with an opportunity to review cookware for Kitchenware Superstore and subsequently compelled me to review a tagine.
Tagines are a traditional earthen cooking pot used by the Berbers in North Africa. They have a shallow base and a conical lid, this captures the steam and condensation ensuring the slow cooked food turns out succulent. The tagine I was sent to review however, had a heavy metal base not earthenware. It's made by Scanpan and was a whopper of a pan – in a good way.
Admittedly, I was a little sceptical about how well this would perform. Having used it, I can say it did the job nicely. Like the traditional clay tagines, this is suitable for stove top cooking. The metal base allowed me to brown the meat, giving it extra flavour. It was big enough for a tagine feast feed 6-8, which was brilliant as we like to entertain. The handles made it simple to lift from stove to table and it was really easy to clean afterwards. Oh and it looked good on the table, I'm tempted to use it as a fruit bowl when not cooking in it.
Tagine recipes are generally slow cooked, richly flavoured and contain meat with vegetables. I adapted this beef tagine from a Jamie Oliver recipe. The list of ingredients may seem a little long like the prep time, but this is a very simple dish, so don't be put off. If you don't have a tagine and don't fancy buying one, try using an earthen ware casserole pot or a French oven.
The richness of this dish can be balanced with watermelon and mint as a starter and an almond cream pudding  for dessert.
Preparation time: 6 hours (this includes marinating time)
Cooking time: 3 hours
Ingredients 
700g shin beef – this has a superb sweet flavour when slow cooked
700g chuck steak – a stronger flavour than shin but adds richness to the tagine
1 large brown onion – peeled and diced
1 large red onion – peeled and diced
Large handful of pitted prunes. Apricots or dates also work very well
1 tin of chickpeas
1 handful of blanched almonds
3 fresh tomatoes
1 tin of whole tomatoes
1 medium sized squash – peeled, diced into large chunks
1 medium bunch of fresh coriander
1½ tbsp. paprika
1½ tbsp. cumin
1 tbsp. cinnamon
1 tbsp. ground ginger
2 tbsp. ras el hanout (Moroccan seasoning – blend of spices)
1 tsp. of chilli flakes (optional)
Salt and pepper
1 litre of vegetable or chicken stock
Method
Cut the meat into large pieces (approximately the size of golf balls).
Mix all of the spices in a large bowl and add the meat.
Ensure all surfaces of the meat are coated with the spice and rub it in.
Cover the bowl and store in the fridge for at least 5 hours, overnight is even better.
Add 2 tablespoons of olive oil to the pan and over a medium heat brown the meat.
Add the onion and cook for a few minutes, if it begins to catch, add a ladle of the stock.
Add the tomatoes, the chickpeas, 2/3 of the stock and the stalks from coriander (chopped).
Bring to the boil, reduce the heat, cover and simmer for 1½ hours.
If you cannot find blanched almonds – use almonds with the skins on (they will be brown not white). Put them in a bowl and cover with boiling water for 20 seconds. Drain the water and give one end of the almond a squeeze between your fingers and an ivory almond will pop out.
After 1½ hours, remove the tagine lid, give it a good stir, add the prunes, the butternut squash, the blanched almonds and the remaining stock.
Stir in and cover. Simmer for a further 1½ hours.
Sprinkle with a generous handful of coriander leaves and serve hot with cous cous and flatbread.
We found this an incredibly rich dish, so un-Moroccan it may be, I'd suggest serving with something like steamed broccolini or spinach.
How far in advance do you plan your holidays and what exotic destinations appeal?