Vegetarian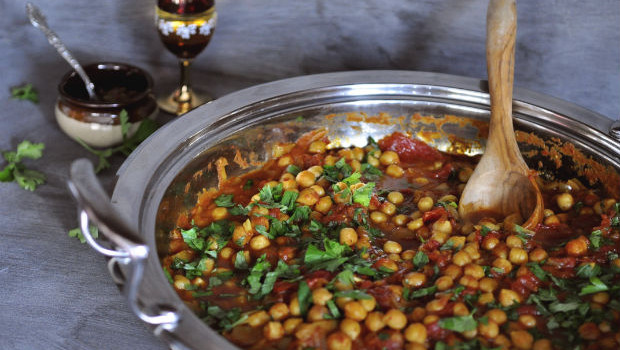 Published on April 13th, 2014 | by Gareth
2
Chickpea and sweet potato tagine
Ever had one of those weeks or days that leave you feeling drained? Perhaps it was the combination of daylight saving, work and getting back into the gym, but I recently felt like a chocolate Easter bunny; hollow. I felt positively listless.
The solution, comfort food! Good comfort food should be simple, hearty and hot plus there's usually a degree of familiarity. But to keep things interesting, Nina and I like to try out at least one new recipe each week, either from a book or one of my own creations.  This ruled out comfort favourites like beef stew and dumplings or sausage casserole.
My local Harris Farm store once again provided inspiration, in the unassuming form of a special on dried chickpeas. The result was a spicy chickpea and sweet potato tagine, original recipe from 'The Food of the Mediterranean' and modified to include more kick and sweet potato.
This is a one pot healthy vegetarian feast, so grab your hemp underwear; it's time to party. Vegetarian stereotypes aside, the chickpea and sweet potato tagine goes well with fresh crusty bread or hot couscous. Perfect for Meat Free Mondays too.
Prep time: 10 minutes if using tinned chickpeas or overnight plus 1 1/2hrs if like me using dried, (if you have the time it's worth it for the extra nutty flavour).
Cooking time: 65 minutes
Equipment: Tagine (it you don't have one you can use a cast iron or heavy terracotta oven proof dish with lid).
Ingredients 
400g dried chickpeas (or 2 400g tins)
2 x 400g tin whole tomatoes
2 small brown onions – peeled and finely chopped
250g sweet potato – peeled and diced (if you don't like sweet potato, use pumpkin or butternut squash)
3 cloves garlic – crushed
1 fresh red chilli – finely chopped (deseeded if you don't want it too hot)
½tsp. paprika
1 tsp. cayenne pepper
2 tsp. cumin
2 tsp. cinnamon
1 tsp. ground ginger
2 tsp. turmeric
2 tbsp. flat leaf parsley leaves – chopped
5 tbsp. fresh coriander (cilantro) – torn
Method
If you use dried chickpeas they will need soaking in water overnight, drain then cook in boiling water for 1½ hours. Then finally drain before using.
Cook the onions with a tablespoon of olive oil over a low heat for ten minutes, until soft but

not

brown.
Add the garlic, chilli, cayenne pepper, paprika, cumin, ginger, turmeric and cinnamon. Stir and cook for a few minutes.
Stir in the tomatoes cover and simmer for half an hour over a low heat.
Add the chickpeas and sweet potato, cover and simmer for 35 minutes. After 25 minutes add the parsley
If using an ovenproof dish, preheat the oven to 180degrees.
Stir in the coriander and serve with couscous (I like to use hot stock, peppercorns and a tablespoon of course grain mustard in my couscous).
Whats your favourite comfort food?