Pork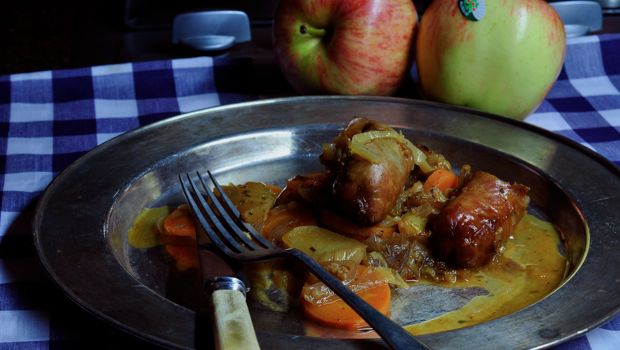 Published on February 3rd, 2013 | by Gareth
7
Sausage, apple and red onion casserole
A casserole in summer? Why would you, especially in Australia! Let me see, two reasons. The first is despite the fact that we still officially have 25 days of summer left the weather in Sydney has been un-characteristically crap. The second is my mum has been asking me to share this recipe for a while.
The word casserole always feels a bit 1950s to me, almost dowdy and uncool and far from gastro-cuisine. After a little research it seems the English have been misusing the word somewhat.  The word casserole is basically French for oven or stew pot, so really casserole refers to the utensil not the food. This type of one pot cooking isn't a new idea and dates as far back as 4th century BC Greece.
This casserole recipe works well with pork chops however to make it super un-sophisticated I chose to use pork sausages. They're organic though so we're not talking your average sausage. The funny thing is cassoulet and tajine are also types of casserole yet for some reason people don't look down their nose at them, have we all become food snobs? I can't recall the last time I saw a casserole on the menu of a restaurant.
The heavy use of apples in this dish keeps it quite light plus takes advantage of the first of the seasons Royal Gala apples (though Granny Smiths work better as they are more tarte). I've also made this using beef sausages and replaced the apple with prunes, which in my opinion was even better.
Serves 4
Preparation time: 10 mins
Cooking time: 2hrs
Ingredients
8 good quality pork sausages (or 4 pork chops)
4 red onions – peeled and roughly chopped
2 medium size apples – peeled and roughly chopped
2 small carrots or one 'big un' – peeled and sliced
½ leek – sliced
3 cloves garlic – crushed and chopped
1 tsp. Dijon mustard
1 tsp. cranberry sauce (optional)
1 tblsp. brandy
300ml stock (vegetable or chicken)
1 bay leaf
2 sprigs rosemary or 6 fresh sage leaves
2 tsp. tomato paste
1 tsp. flour
Pinch of salt and freshly cracked pepper
Pinch of chilli flakes (optional)
Method
Although casserole is a one pot dish I cheated by slow cooking the onions for 10 minutes then adding the garlic and bay leaf and cooking for a further 5 mins in a saucepan on the hob. It's optional as is browning the sausages first – both of which I did.
Put all the ingredients except the flour in a casserole/oven proof dish. I used a 20cm diameter earthenware dish but a cast iron French oven dish also works a treat.
Pop into a preheated oven at 160degrees C for 1 1/2 hours with the lid on and a further 20-30 mins with the lid off. Giving you plenty of time to have a drink or make a delicious dessert.
At the end mix the flour in with a little warm water to make a paste then stir into the casserole sauce, this will help thicken.
Serve with potatoes or herb dumplings (note if you go dumplings add them to the casserole when you remove the lid). Some green veg like broccoli or spinach goes well with this too.
Do you have any un-cool un-sophisticated favourites?