Red Meat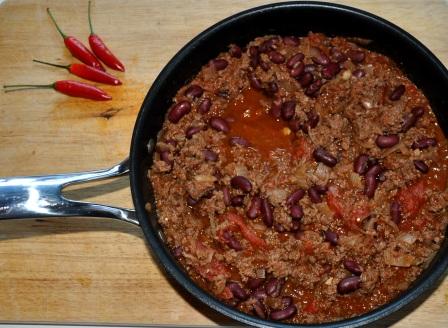 Published on August 2nd, 2010 | by Gareth
1
Chilli Con Carne with Kangaroo
The weather outside last night was pretty dreary and as I was still enjoying the side effects of a good night out (the previous night), I thought a chilli was in order. The problem was it didn't really excite me. That was until I saw minced kangaroo meat.  For those of you who were fond of Skippy read no further.  I am still not sure why I thought that it would be a good idea perhaps it was the fact that the meat is organic, hormone free, high protein, low fat meat, sustainable and healthy. Or maybe it was just because I felt it would be a bit cliché, living in Australia and all.
Now if the idea of chillied roo isn't appealing or it simply isn't available in your neck of woods worry not. You can substitute with pretty much any meat be it beef, pork or chicken. I have even tried the recipe with refried beans as a high fibre veggie alternative.
Initially the aroma was a little pungent when using kangaroo. The flavour however was not overpoweringly gamey and the texture was surprisingly good, lean and not at all tough.
Prep time: 10 mins
Cooking time: 2 hours (as with most spicy dishes this one is definitely better on the second day).
Ingredients
3 Tblspns of olive oil
800gm Minced kangaroo
1 ½ Onions, peeled and finely diced
3 Cloves of garlic crushed and finely chopped
1 Tblspn tomato puree
1 Tin of peeled whole tomatoes
1 Tin of red kidney beans
4 Fresh chillies deseeded and finely chopped (Jalapeno or habanera). This is for a hot chilli so you may wish to reduce the amount.
1 Tsp cumin powder
1 Tsp ground coriander seeds
½ Tsp chilli powder
Salt and pepper to season
2 square's of dark chocolate (square's as in segments not bars!)
1 Cup of beef stock or water
Rice, coriander and sour cream to serve
Heat half the oil in a pan, add the chopped onion and cook slowly over a low heat for 10-15 minutes. This is quite important as it caramelises the onions and stops then being stringy. Next add the garlic and stir for about 3-5 minutes being careful not to burn the garlic.
Add the meat and remaining oil and increase the heat, stir frequently so that it browns but doesn't burn (kangaroo is quite lean so don't let it catch). Once the meat has browned add your spices (fresh chilli, cumin, coriander seeds and chilli powder). Now although you probably know this make sure f you don't wear gloves to chop the chilli peppers that you wash them very well and don't touch your eyes.
Stir the spices in keeping the heat medium high for 5 minutes. Add the tomato puree, tinned tomatoes and the stock/water and bring to the boil. Now reduce the heat, cover and simmer for 1hour. Stir every 15 minutes and add a little more water if the chilli looks like it is drying out.
After 1 hour strain and rinse the kidney beans then add to the pan. If necessary add a little more liquid, cover and continue to simmer for 45 minutes. Stir lightly every 15 minutes to prevent it burning but lightly fold rather than stir heavily. This will help ensure the kidney beans absorb lots of the liquid without splitting and breaking up. 5 minutes before serving add the chocolate, once melted stir the chocolate in. This will give the flavour an added depth and a nice gloss to the sauce. Make sure that you use dark chocolate with at least 50% cocoa solids and not milk chocolate.
Half an hour before serving start the rice. I like to use Jasmine rice but ordinary long grain, wholemeal brown or Basmati rice will do just as well. Rinse the rice in a sieve until the water runs almost clear. Use 1 cup of rice per person. For each cup of rice you will need 1 ½ cups of water. Bring the water to boil in a pan then add the rinsed rice. Bring to the boil again, reduce the heat, cover and simmer for 20 minutes. If you find the rice is soft and there is still a little water left, cover the pan with foil and put it in the oven on 150 degrees for 10 minutes.
Serve the chilli with rice, sour cream and freshly torn coriander leaves.