Desserts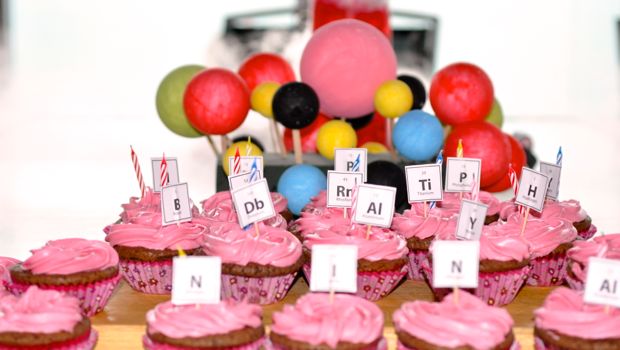 Published on February 27th, 2013 | by Gareth
3
Science themed party & chemistry cupcakes
Who doesn't love a good party? It's an opportunity to celebrate (hopefully) with people you like and 'chillax'. Even better than a party is a themed fancy dress party and better still is a surprise party with a science theme.
Cue Humble Crumble philosophy: 'a good dress up party only repays what you put in'. Despite the initial whinging from the pretentious and the procrastinators you will likely have a bucket load of fun if you get stuck into it and make an effort with the costume. Plus it will make for some great party pics. The person that turns up with a lame accessory because they couldn't be bothered or are 'too cool' usually ends up looking like a muppet.
What's this got to do with food? Everything, theming is all about attention to detail. Something I put into practice last weekend for Nina's surprise birthday party, (she's off to study forensics – clever lass). A science party with a CSI flavour was the obvious choice, which gave lots of scope.  The theming works just as well for adults as kids. Here are 3 tasty science themed treats that would impress even Sir Isaac Newton (assuming he was still alive, knew you and came to your party).
First up was Periodic Table of the Elements Cup Cakes, which is a bit of a mouthful so I call them:
Chemistry Cup Cakes
Preparation time: 25 minutes
Cooking time: 25 minutes
There are quite a few stages BUT THIS IS SUPER SIMPLE.
Ingredients
Cake
250g unsalted butter
1 cup caster sugar
1 cup demara sugar
4 eggs – room temperature
1 ½ cups self-raising flour
1 ¼ cups plain flour
150g dark chocolate – melted
1 tsp. Vanilla extract
1 cup skimmed milk
Frosting
125g unsalted butter
125g Cream cheese
8-10 cups icing sugar
1 tsp. Vanilla extract
Food colouring as desired
What you will need
Cupcake baking tin
Cupcake cases
Cocktail sticks
Plain paper
Method – Cup cakes
Preheat the oven to 160 degrees C
Break the chocolate up into small pieces, place in a glass bowl and put over a small saucepan of boiling water. It's important that you don't get water in the chocolate so use a slightly larger glass bowl if you can.
Once the chocolate is completely melted, set aside to cool for a few minutes (but not set).
Using an electric mixer beat the butter into a creamy (frenzy). Then gradually add the sugar mixing in between.
When the mix is fluffy add the eggs one at a time, mixing in between.
Gradually add the flour and milk, alternate between flour and milk mixing as you go.
Lightly blend in the vanilla. Now add the melted chocolate, its important that it's not hot otherwise it will melt and begin to cook the butter and egg.
Once evenly blended divide the mix into 24 cupcake cases (in the cupcake tin) ¾ full.
Bake in the oven for 20-25 minutes and don't bang the oven door shut, it can make the cakes sink.
Stick a skewer in after 20 minutes if it comes out clean they are ready. If not bake for a further 5 minutes.
Remove from oven and cool in the tin for 5 minutes. When cool enough to handle transfer to a cooling rack for a further 30 minutes.
Method – frosting
Blend all the ingredients until firm but creamy.
Adding a little food colouring is optional but preferred. I went with girly pink.
Pipe the frosting or spread evenly with a knife.
Method – Elements labels
The labels were pretty simple, all you need is to print the Periodic table twice, cut the squares out, stick two together with a cocktail stick in the middle and you're done. It's even easier if you have a kind friend who is a graphic designer.
Fruit molecules
These make eye catching, fun and healthy additions to the snack tray. Plus you can get the kids involved to make them.
Preparation time: 10 minutes
Ingredients
1 punnet of cherry tomatoes
1 bunch of green grapes
1 bunch of red grapes
15 Lychees (optional)
Cocktail sticks
Method
Join the individual pieces of fruit with cocktail sticks so you don't end up with any exposed cocktail stick ends.
Get as intricate and imaginative as you like.
Serve
Delicious DNA
Ingredients
Liquorice twists or ribbons
Marshmallows
Cocktail sticks
Method 
Twist the liquorice and at equal intervals use cocktail sticks loaded with 2-3 marshmallows to join the two strands of liquorice.
Done!
So what would be your ideal them for a dress up party?