Vegetarian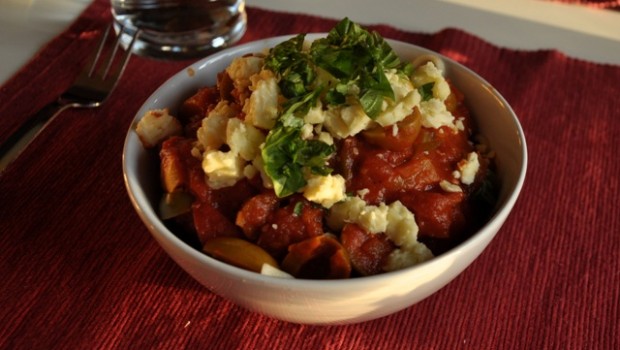 Published on January 23rd, 2011 | by Gareth
3
Vegetarian bolognese sauce
This one is for my vegetarian friends who often get left out when I start talking ribs n roasts.  One of our pals made this for us and it was so good it had to be shared.  Now if you are not a pasta fan, why not is there something wrong with you like it gives you uncontrollable wind or are you just fussy?  Joking aside, this sauce is versatile enough to be a dip, a side dish (bit like a ratatouille) or even a topping for baked potatoes with a dollop of crème freshe. So even if you're not a pasta fan it's worth a crack, the latter makes for an excellent meal!
And for the carnivore's out there, come back and stop hiding behind the sofa, eating the odd vegetarian meal won't hurt you. Quite the opposite in fact. But if the thought bothers you that much, dice up a nice bit of chorizo sausage and cook it with the garlic.
  Ingredients
2 cans whole tomatoes
2 red capsicums, diced 'chunky' style
2 handfuls of chilli and garlic stuffed olives
8 tomatoes, roughly chopped
½ onion, finely chopped
2 cloves garlic
Olive oil
Method
Place 2 teaspoons of olive oil in a heated pan.
Add the garlic (crushed with the flat of the knife, then finely sliced to release the oils and aroma).
As soon as the garlic begins to turn golden add the onion.
Cook slowly over a low heat until golden then add the chopped fresh tomatoes, capsicum and olives.
Simmer for about 5 minutes.
Add the tinned tomatoes and simmer for 15-20 minutes.
Serve over pasta season with freshly cracked pepper and paprika. Garnish with fresh basil and your choice of cheese. We had feta but buffalo mozzarella or parmesan work well too.