Soup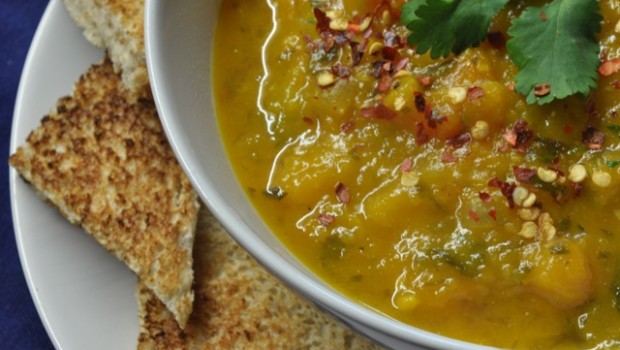 Published on June 16th, 2011 | by Gareth
1
Thai style pumpkin, ginger & coriander soup
After a weekend of over indulgence, something healthy and 'mind cleansing' was needed (mind cleansing because by eating this I can feel virtuous again :-).  Here is a quick fire recipe to make vegetable soup, with some of those favourite Thai flavours.
Strictly speaking it's about as Thai as Jeremy Irons but it does use some of the hero ingredients of a good thai dish being ginger, coriander, chilli, garlic and lemon grass.  Which makes it simultaneously hearty, light and almost refreshing.  Anyway its nice soup so thats all that really matters. Plus you don't have to be Dan Hong to make it.
Preparation time: 20 minutes
Cooking time: 40-60 minutes
Ingredients
400g pumpkin
250g butternut squash
2 carrots
1 onion
2 cloves garlic
1 bunch of fresh coriander
1 chilli pepper
1 lime
1 ltr vegetable or chicken stock
1 tsp ground coriander seed
Good lug of canola oil
Lemon grass
1-2 tsp freshly grated ginger
Nutmeg
Salt and pepper
Method
Gently heat the oil in a 5lt stock pot.
Peel and finely slice the onion, add to the pan and cooked slowly, (about 15 minutes).
Crush and mince the garlic and set aside.
Peel and chop the squash and pumpkin into small cubes and add to the pan.
Peel and slice the carrot, add to the pan.
Add the stock, ground coriander, a pinch of freshly grated nutmeg, the zest and juice of the lime, chopped chilli and lemon grass.
Finely chop the stalks of the fresh coriander and half the leaves. Add to the pan.
Bring to the boil, reduce temperature, cover and simmer for 20 minutes.
When the carrot and squash have cooked, stir with a whisk. This will break up the vegetables into a smooth soup.
Reduce the liquid content by removing the lid and increasing the temperature.
You can blend the soup but I like a thicker texture. Just before serving add the remaining coriander leaves finely chopped. This will add a nice contrast of colour.