Red Meat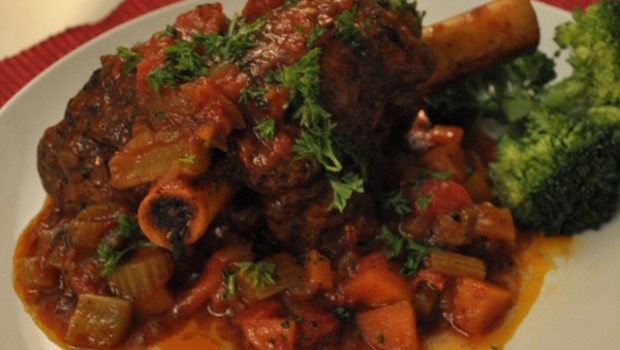 Published on July 10th, 2011 | by Gareth
2
Tomato spiced lamb shanks
Since moving to Sydney we have been lucky to have a lot of visitors, which is a great excuse to cook something a little less ordinary and crack open a bottle of wine.  As if an excuse for either is really needed. An English pal recently came to stay with us in Sydney. When his return flight to NZ was cancelled due to the infamous 'ash cloud' he decided to cook.  
Now I am not sure of the origin of this recipe, he tried to convince me that he was mates with Jamie Oliver. Whilst my friend is from London (like everyone from the UK in this part of the world), he is a bit of a Billy Bullshiter and I suspect the recipe though Jamie Oliver in origin probably wasn't passed on in person, probably a book that his nan bought him.
Irrespective of how he came to know the recipe, it was fantastic and not just because I didn't have to cook. It was so flavoursome (almost Moroccan) that it was worth sharing, England to NZ to a POM in Sydney and now to you where ever you are. This is a great lamb recipe for the slow cooker, 'crock pot or just a covered pan.
Do you have any recipes that are so well travelled with you that their origin has now been forgotten?
Ingredients
4 lamb shanks
sea salt and freshly ground black pepper
1 teaspoon coriander seeds
1 small dried red chilli or 2 teaspoons chopped fresh chilli
1 tablespoon fresh rosemary
1 teaspoon dried marjoram or oregano
1 tablespoon flour
1 tablespoon olive oil
1 clove of garlic, finely chopped
1 large carrot, quartered and finely sliced
6 sticks of celery, quartered and finely sliced
2 medium/large onions, quartered and finely chopped
1 tablespoons balsamic vinegar
170ml / 6fl oz dry white wine
6 anchovy fillets
2 x 400gr/14oz tins of plum tomatoes
1 handful of fresh basil, marjoram or flat-leaf parsley, roughly chopped
Method
Trim the excess white sinew and fatty parts off the shanks.
Season the lamb with sea salt and freshly ground black pepper.
In a pestle and mortar, smash up the coriander seeds and dried chilli and mix with the chopped rosemary and dried marjoram.
Roll the lamb in this mixture, pressing it in well.
 Dust the lamb with the flour.
Heat a thick-bottomed fry pan, add the oil, brown the meat on all sides and then remove from the pan.
Add the garlic, carrot, celery, onions and a pinch of salt and sweat them until softened.
Add the balsamic vinegar and allow it to reduce to a syrup.
Pour in the white wine and allow to simmer for 2 minutes.
Add the anchovies (these really seem to intensify the lamb flavour)
Add the lamb and the tinned tomatoes, kept whole.  Bring to the boil.
Transfer the lamb and the sauce to a heavy oven dish with a lid. Cover and simmer in the oven at 180C/350F/gas5 for 1 1/2 hours.
Remove the lid and cook for a further 1/2 hour.  Skim off any fat and taste for seasoning.
Stir in a handful of roughly chopped fresh basil, marjoram or flat-leaf parsley.
Served with mashed potato and seasonal greens.