Soup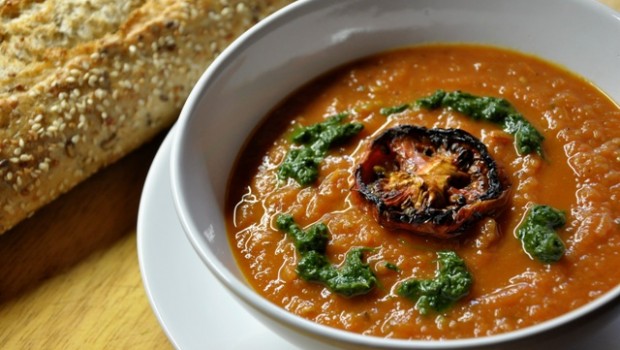 Published on June 6th, 2011 | by Gareth
4
Roasted tomato soup
Roasted tomato soup with basil puree
There are few soups, (apart from maybe chicken) that have such broad appeal as tomato soup. It has a familiarity like a favourite old jumper that is soft and comforting.  It has the advantage or perhaps disadvantage of not containing any meat, so it's perfect for those occasions when you have to tax the recipe archive for 'that' vege friend.  What's more even the fussy, bratty kids seem to like it.
As winter creeps upon us I find myself pining for a British winter, crazy or what? I think it is because you really notice the change of season in Britain. The land does sleep; it feels ancient and mysterious amongst the silence of the autumn mist. Crunchy leaves are a plenty, its weather truly made for log fires and soup. I guess it is familiar. There are however definitely many plus points to winter in Australia. The first is that you don't experience the mandatory transport chaos brought about by menacing wet leaves on train tracks. There is an absence in the abundant January snow (for 3 days every 2 years) that was always a cue for the news to run footage of kids sledging because their school had been closed due a frozen boiler. Unfortunately when I was a kid on all but one occasion it was always the kids in a different part of the country who got sent home to play in the snow.
Another great thing about winter in Australia is the fact that there is more daylight and much more sunshine. This is great news for cooks because end of season cheap tomatoes are available right up until early June. Whilst they aren't much crack for salads they are perfect for soups, pickles and stews, good old British fare!
So last Sunday I bought a big bag of tommys at a snip for under $4 a kilo. To get a really intense tomato flavour I decided to slow roast them before turning them into a liquid meal. Slow roasted tomatoes are a bit of lengthy process but worth it.
Preparation time: 20 minutes
Cooking time: 5 hours
Ingredients
1kg ripe tomatoes
1 onion
1 bunch fresh basil
4-5 cloves garlic
1 tsp lemon juice
600ml vegetable stock
3 tblsp tomato puree
½ tsp paprika
Freshly ground black pepper
4 tblsp olive oil
2 tsp balsamic vinegar
2 tsp raw sugar
Sea salt
Method
Preheat the oven to 150 degrees.
Wash and dry the tomatoes.
Line two trays with baking paper.
Cut in half and arrange on trays, cut side up.
Drizzle with olive oil, sprinkle the sugar over the tomatoes and season them with salt and freshly cracked black pepper.
Scatter the garlic cloves on top of the tomatoes, (keep the skin on the garlic).
Pop the tomatoes in the oven for 4 hours.
After 3 ½ hours, peel and slice the onion and cook over a low heat for about 30-40 minutes.
Add the paprika and tomato puree to the onion. Stir and cook for 5 minutes.
After four hours the tomatoes will be soft and sticky, remove from the oven and blend into a thick paste.
Combine the roast tomato mix with the onion.
Squeeze the gooey puree from the roast garlic cloves into the soup.
Gradually add the stock and stir together.
Cover and heat for a further 30 minutes over low heat.
Meanwhile wash the basil.
Using a pestle and mortar, with a little olive oil, lemon juice and raw sugar, grind the basil up. You should finish with a smooth emerald green paste.
Transfer to a bowl and wrap tightly with cling film and pop in the fridge.
Serve the tomato soup hot in bowls with a teaspoon of the basil puree drizzled over the top.