Pork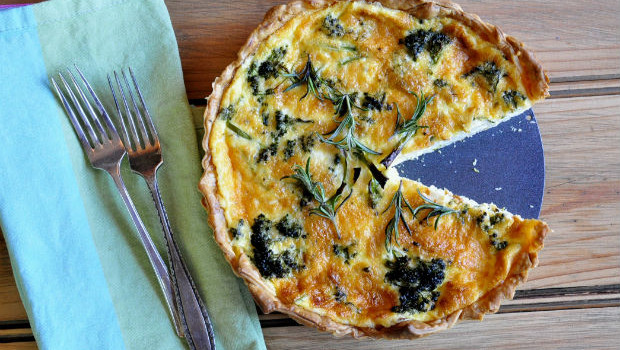 Published on January 26th, 2015 | by Gareth
0
2 Quiches: Broccolini & feta, bacon and spring onion
Happy Australia Day, for everyone outside of Australia, happy Monday. Australia Day for commemorates the day the British landed in Sydney Cove and established the first colony. As a POM with strong NZ ties I associate Australia Day with a celebration of multiculturalism and diversity as much as a historical landmark. Oh and picnics and barbeques.
Over Christmas, I decided to ditch all technology including my phone and the blog for 3 weeks. It felt good to replace email and social media interaction with family and friends face-to-face catch ups and enjoy time with the baby.
Humble Crumble is now back with our first post of 2015, to ease into things I wanted to share a slightly boring but flexible old favourite, quiche or 'gay man's pizza' as I once heard it called. Darling of the 70's dinner party, quiche, (pronounced phonetically by my grandfather), is a great solution to picnics. It's easily adapted to suit most dietary needs and kept chilled can be made the day before.
I usually make my own pastry crust, but pressed for time, go the cheaty way and buy short crust pastry. This reduces the prep time to less than 10 minutes and 35-40 minutes for cooking. So great for Australia Day, even if it is raining where you are.
Here's two variations I recently made, both very simple.
Prep time: 10 minutes
Cooking time: 40 minutes (including blind baking time)
Equipment: 22cm flan dish, large bowl/wide mouthed jug, fork, chopping board, knife, baking beans
Ingredients – serves 4-6
Broccolini & Feta vegetarian quiche
300ml cream (pouring)
1 cup milk
4 eggs – lightly whisked
100g feta cheese – crumbled
8 stems of broccolini – roughly chopped, discarding the bottom 5cm of the stem
1 tsp.  extra virgin olive oil
Salt and pepper to season
2-3 pinches nutmeg
Large pinch of smoked paprika
Short crust pastry (1 packet if buying frozen)
Bacon & spring onion with tomato quiche
150ml double cream
250ml milk
4 eggs
100g feta cheese or 50g Parmesan – crumbled or grated
2-3 rashers smoked bacon – rind removed and diced
6-8 cherry tomatoes or 1 Roma tomato sliced (through the middle horizontally)
6-8 spring onions – washed and shredded (cut in thin diagonal slices)
Salt and pepper to season
2-3 pinches nutmeg
Short crust pastry (1 packet if buying frozen)
Method
The method is pretty much the same for both quiche recipes:
Preheat oven to 200 degrees
Grease the flan tin/dish
Roll out the pastry to the thickness of a $1 or pound coin.
Lay the pastry over the flan tin and press into the bottom and sides of the tin, prick with a fork.
Lay a sheet of baking paper over the pastry and fill the bottom of the tin with baking beans/weights or rice.
Blind bake the pastry case for 10 minutes. Remove from oven, remove baking beans and allow to cool for a few minutes.
Reduce the oven temperature to 180 degrees
Fry the chopped bacon (if using the non vegetarian option), in a frying pan until the edge are caramelised then add to the other ingredients.
Mix the remaining ingredients (except the tomato, if making the second quiche recipe) in a jug.
Pour the custard mix into the pastry case, arranging the tomato on the top, then season.
Place in the oven and bake for 25-30 minutes, until golden on the top.
If making the vegetarian quiche, sprinkle with paprika at the end
Serve hot or cold.
What's your favourite picnic treat?