Red Meat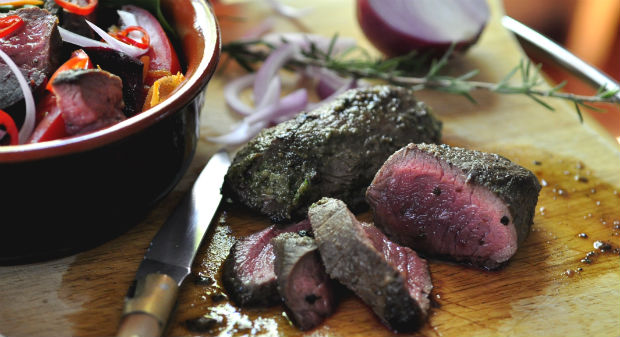 Published on January 19th, 2014 | by Gareth
4
Anti-oxidant salads made with iron
January has brought a lot of new members to our local gym, all part of the New Years resolutions (with a lifecycle of 3 weeks). I've jumped on the detox bandwagon with dry January. I'm supposed to tell you how great I feel. For the most part that's true, but on a warm summers eve, I'm screaming out for a couple of cold beers.
To fortify my resolve, I made a couple of healthy salads. Now I tend to associate salad with, punishment and dreary diets. But these aren't your run of the mill green salads. They're jam packed with flavour and contain more goodness than chocolate.
 Kangaroo detox salad
The first salad could be a contender for Australia Day fair as it uses kangaroo steak, an excellent source of protein and iron. It also has the added benefit of being organic. For those outside of Oz, beef rump steak, venison, or lamb are good substitutes.
Health properties of this salad:
Baby spinach: Iron, vitamin C and lots of antioxidants
Beetroot: is a great antioxidant, it's full of folic acid, vitamin A, B6 and C, plus is full of serotonin (see my chocolate beetroot brownie recipe for the health properties of serotonin). Beetroot can also help reduce blood pressure.
Carrots: Vitamin A from beta-carotene (good for the liver, anti-aging and vision). Carrots also reduce the risk of lung cancer and heart disease.
Tomatoes: Lowers the risk from a range of cancers, thrombosis and heart disease
Onion: onion breath, it also helps regulate blood sugar levels and boost immunity.
All in all it's a colourful detox dynamo that's easy on the eye.
Prep time: 10 minutes (plus 30 to marinade the meat)
Cooking time: 5 minutes
Equipment: 1 saucepan, 1 frying pan, large spoon, knife and chopping board
Serves 4
Ingredients
4 small/medium kangaroo steaks
1 large cooked beetroot – peeled and roughly chopped
1 fresh carrot – grated
1 red chilli – deseeded and finely sliced
4-6 cups of fresh baby spinach leaves
4 Roma tomatoes – roughly chopped
1 medium red onion – peeled and finely sliced
4 tbsp. virgin olive oil
4 tbsp. caramelised balsamic vinegar
Salt and pepper
2 sticks of fresh rosemary
2 cloves garlic – crushed
6 juniper berries
Method
Cook the beetroot by submerging it in a pan of cold water, bring to the boil and simmer until soft all the way through (approx. 30-40 mins). Then set aside to cool. Once cool, peel and chop.
Grind the juniper berries, garlic, pinch of salt and pepper and rosemary leaves to a paste in a pestle and mortar. Add 4 tablespoons of olive oil and mix together.
Rub the paste into the meat, cover and put in the fridge for 30 minutes. Remove from the fridge 15 minutes before cooking to bring it to room temperature.
Heat a splash of oil in a frying pan. When the pan is hot, (but not smoking), add the meat. Cook each side for 2-3 minutes (depending on how rare you like your steak). Once cooked, remove from the pan and allow rest for 5 minutes.
Toss the grated carrot, chopped beetroot, chilli, tomato, onion and spinach leaves in a bowl.
To make the dressing, mix the virgin olive oil and caramelised balsamic in a jar.
Slice the meat (in inch thick slices) and arrange on the top of the salad and pour dressing over the top.
Rocket and walnut pesto and beetroot salad
The second salad came from Russell Norman's Polpo. Whilst it doesn't sport such an impressive list of big hitters in the healthy eating, it's equally delicious and is really easy to make.
Rocket is full of iron, vitamin C and anti-oxidants. And walnuts are rich in omega 3, manganese, iron, zinc, selenium, B vitamins and vitamin E.
Prep time: 10 minutes
Equipment: Food processor, 1 serving platter, large spoon, knife and chopping board
Serves:  4
Ingredients
8 cups of tightly packed fresh rocket leaves
1/4 cup shelled walnuts
2 tbsp. grated Parmesan cheese
4 tbsp. virgin olive oil
1 large cooked beetroot – peeled and roughly chopped
1 clove of garlic
Method
Put 4 cups of rocket, the walnuts, olive oil, Parmesan and walnuts in the food processor. Pulse into a pesto paste.
Arrange the rocket and beetroot on the platter.
Spoon the rocket and walnut pesto over the salad.
Serve with hot Ciabatta bread.