Red Meat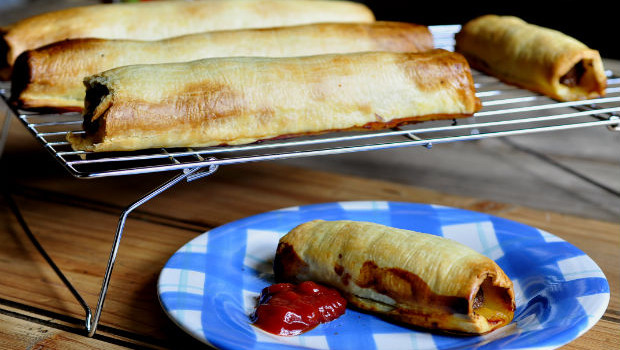 Published on January 17th, 2016 | by Gareth
2
Gourmet sausage rolls for Australia Day
I intended the New Year to be a little more productive for Humble Crumble. However, when presented the opportunity to spend quality time with my family and play with Lord Poo Farty (my 16 month old son – and that's not his actual name in case you were wondering), I found myself, again neglecting the blog.
Much as I enjoy blogging, in 20 years time, I'm more likely to regret not spending enough time with loved ones than regret not blogging enough. Hence the scarcity of blog posts. I encourage everyone to spend more time with your family and friends and less time at work. Treat each day as precious and build memories for yourself and your loved ones.
I count myself as lucky as my parents helped create some fantastic childhood memories. One such memory involved a picnic. I was about seven or eight, we'd recently moved from the city to the New Forest (Hampshire, England). Mum had taken us out for the day to explore our new green and rural playground. The picnic blanket was laid out; I was tucking into my sandwiches and no doubt thinking how many slices of cake I could eat. All of a sudden, we were ambushed by a gang of militant donkeys, (donkeys and ponies wander freely in the New Forest). I think the donkeys wanted to join our picnic. Mum's attempts to shoo them away proved futile. Before I knew what was happening, mum had grabbed my toddler brother and sister and we took flight leaving the picnic behind. It was like ridiculous scene from Benny Hill. But has the family in stiches when we talk about it.
On the subject of picnics, Australia Day is fast approaching. If you're living in Australia, it's a great excuse for a picnic, create a couple of family memories and share food with ants. And what better Australia Day picnic food than good old sausage rolls. Here's my recipe for something a little bit gourmet, but dead easy to make.
Ingredients
Beef sausage rolls
• 500g lean minced beef
• 1 tbsp. tomato paste
• 1 medium size onion – finely chopped
• ½ cup of bread crumbs
• 1 chilli – finely chopped
• 1 ½ tsp. fresh thyme leaves
• 3 juniper berries – crushed and chopped
• 1 clove garlic – finely chopped
• Salt and pepper to season
• 2 sheets of short crust or flaky pastry
Directions
• Preheat oven to 180 degrees C
• Defrost the pastry, or if making your own pastry check out my pastry video
• You can dice the onion by hand, but for speed use a food processor – cut onion into quarters, then give it a couple of pulses. Don't over process otherwise the onion becomes watery.
• Add the remaining ingredients including the beef; pulse a few times, this mixes and breaks the meat down into a sausage meat consistency.
• If you don't have a food processor, mix by hand in a large bowl.
• Roll a fist full of the meat into a sausage. You'll want it about half an inch longer than the pastry at each end. I didn't do this and when the meat cooked it shrunk, leaving empty pastry.
• Cut the pastry in half (width way) and lay the sausage you just made onto the pastry.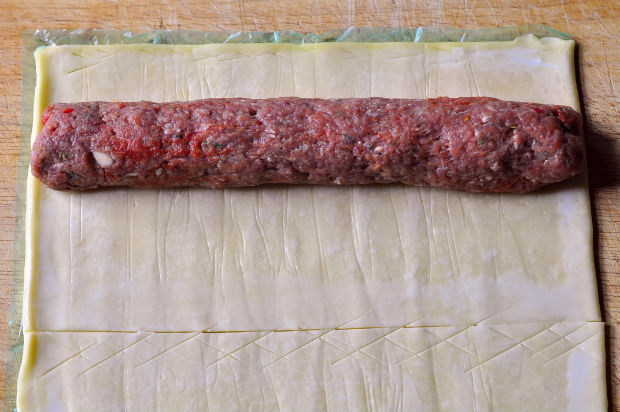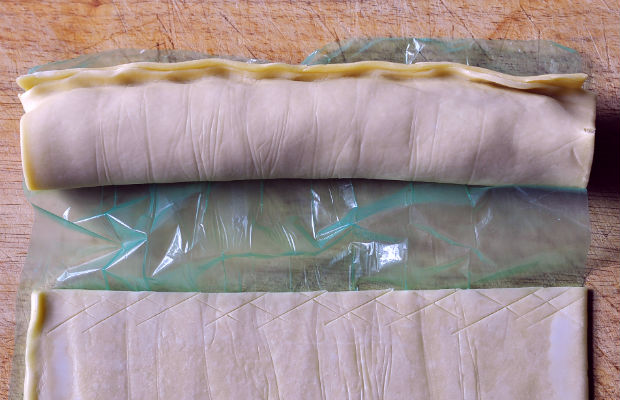 • Score crosses on one edge of the pastry. Wet with a little milk – this helps seal the two edges in the next step.
• Roll the pastry over, pinch the edges together and fold back on it-self. Then turn the entire sausage roll over so the seam is on the bottom.
• To get a nice golden colour on the pastry, brush the pastry with milk or egg.
• Repeat until you have used all the pastry and sausage meat.
• Lay the sausage rolls on a baking tray lined with baking paper and bake in the oven for about 20 minutes or until golden.
• Serve hot or cold with a dollop of tomato sauce.
For a vegetarian option
Ingredients
• I large red onion, sliced and caramelised
• 2 bunches of spinach – washed and finely chopped
• 250g feta cheese
• Black pepper
• 2 sheets of puff pastry, filo works well too
Directions
• Mix the onion, feta and spinach together in a bowl and season with pepper.
• Lay the mixture out in a row on the pastry, seal and roll as with the beef sausage roll.
• Bake for 15-20 minutes.