Reviews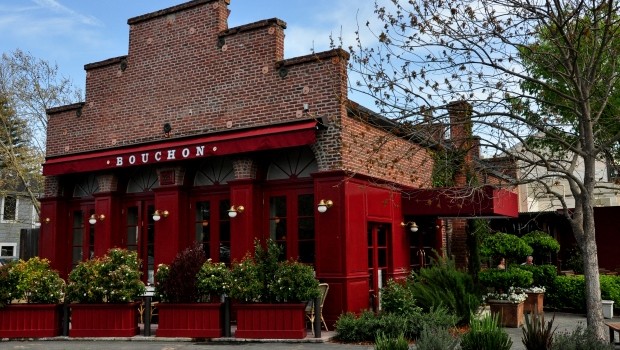 Published on July 1st, 2012 | by Gareth
8
Thomas Keller's Bouchon
California's Napa Valley is big on reds (wine that is, no offense intended to any auburn haired lovelies). Yountville in Napa is also the empire hub of revered American chef and restaurateur, Thomas Keller.  For those not in the know Keller is the man behind 3 Michelin Star restaurants; The French Laundry (Yountville) and Per Se (New York). He also owns Michelin Star winning Bouchon and the Bouchon bakery (Yountville, Beverly Hills, Las Vegas and New York).
You can therefore imagine my excitement when Nina booked our Napa Valley accommodation next door to Bouchon in Yountville. It was meant to be and as luck would have it we got a table for four.
Our evening began with drinks at the quaint farmhouse B&B we were staying at followed by cocktails on arrival at the restaurant, we were after all on 'vacation'. Bouchon serves French bistro style food and has a relaxed family dinning room feel to the place…that is family dining with a collar and a jacket though sir.
Don't be fooled by the placid nature, there is still a sense of attention to detail along with pride in the food and service. Once seated our waiter introduces himself, gracefully picks our napkins off the table to reveal beautifully authentic brown paper menus, folded with the Bouchon logo facing up. He then presents our laps with the crisp, thick, white napkins (I think they were quarter Spanish white actually). I love a sense of theatre and ceremony.
The menu is arranged in a traditionally French format with fruits de mer, plats principaux, hors'd' oeuvres, sides etc. Scanning through the menu my sense are all a buzz, I have to take a few gulps of wine to prevent drooling. This combined with the crackle of the brown paper menu between my fingers and thumb has an almost hypnotising effect.
Boudin blanc, a traditional white sausage served with pureed potato and prunes. Although this wasn't my dish it was one of my favourites, the musky sweetness of the prunes are balanced by the lightly herbed sausage.
Onglet grille – hangar steak grilled with crispy bone marrow, wild mushrooms, water cress and natural jus. One of the best steaks I have ever tasted and combined with the peppery watercress it delivered an iron rich meal. The bone marrow was particularly good and at this point I had some serious food envy and was wondering whether I should have opted for the steak frites.
Moules au safran. As the title suggests its mussels with saffron, to be precise it was bouchot mussels from Maine steamed in white wine, Dijon mustard and saffron. Real roll your sleeves up get messy food, great fun and molluscs with massive flavour, the accompanying fries were so crunchy and salty excellence but I just could not finish them.
Poulet roti – yep you guessed correctly roasted chicken served with fresh chickpeas, green garlic, carmelised artichokes and a chicken jus. Best roast chicken ever.
Salade d asperges – a warm asparagus dish served with piquillo peppers and paloise sauce. Even veges get some serious love at Bouchon.
By the time we had ploughed through all of this dessert was a trolley too far for most. Except me, who had to order the dark chocolate mousse with burnt orange cream. This is an intense cocoa overdose with the density of butter finished with a sexy feel good factor.
Bouchon may not have as many accolades and The French Laundry but I am drawn to the comforting cuisine and relaxed atmosphere synonymous with bistros. It captures everything about the French dining experience, good food, good company, great memories. Although I didn't get to the 3 Michelin Star winning French Laundry I am saving that for my return visit to Yountville.
What style and cuisine makes for your favourite type of restaurant?