Reviews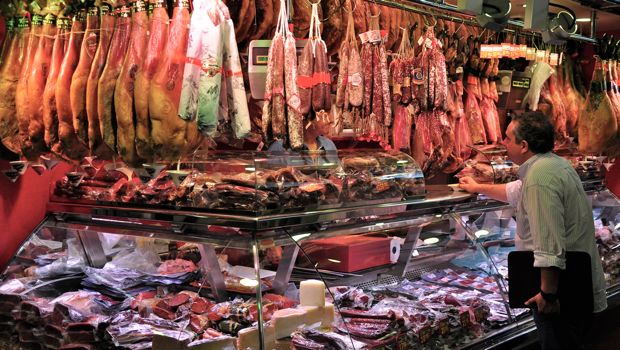 Published on August 3rd, 2012 | by Gareth
2
La Boqueria market Barcelona
Where can you experience one of Europe's best food markets, sip a cold beer in the middle of the market, see the remains of a Roman sauce factory and find a delicious pastry bakery on nearly every street; all within 15 minutes walk of each other? France? Think again.
Barcelona in Spain is the location in question. The reason for this European adventure is the wedding of one Nina's close family friends in Portugal.  Being in Europe I took the opportunity to meet up with my mum and her chap (they still live in England) for a few days in Barcelona. Up until now I had only ever visited the Basque region of Northern Spain so this was a great chance to taste the food of the Catalan region, explore the historic sites of Barcelona and spend a bit of time with my mum.
La Boqueria food market in Barcelona is undoubtedly one of Europe's finest. The fact that it was just eight minutes walk from the hotel I was staying at was a bonus. Unlike Sydney's growers market in Pyrmont, the market runs daily meaning that the stall owners aren't the producers however that doesn't make them any less passionate about the produce they sell. The range here is simply incredible.  The heady aroma of the delicatessen and charcuterie stands, the wonderful colour palette of the fruit and juice stands combined with the beckoning calls of the traders make for an assault on your senses and that's all before I have even sampled the food.
The fish section of the market offers a diverse selection of fish, crustacean, molluscs and cephalopods. In fact the only fruit of the sea that appears not to be represented is seaweed but then the Spanish don't seem all that keen on green leafy veg.
The range of juices and pre-prepared fruit add a rainbow of colour. The juices cover every imaginable combination from coconut and mango to blackberry and banana. I sample the coconut juice followed by strawberry and banana, then kiwi fruit and pineapple followed by a coconut ice-lolly. It all tastes delicious but the greenie inside of me is unhappy about the volume of plastic cups ending up in the bin and not being recycled.
A specialty of Spain that cannot be missed is the dry cured ham, Jamón. This is found in a lot of Spanish cuisine and the focus of many tapas dishes. There are two varieties, Serrano (from the mountains) and Iberico (from the Iberian black hoofed pig). Iberico is the finest and Iberico del bellota is the most revered. Iberico del bellota is from pigs that are free to range in forests eating only acorns. It is then cured for 36 months, the combination of these factors give the thinly sliced ham a unique flavor. Pork is also heavily featured in the range of salami and sausage, primarily chorizo, all of which like the cheese is far from healthy but tastes insanely good and free from artificial additives.
The cheese counter is another place that I cannot resist.  Of particular tasty interest is Manchego cheese from central Spain. It's a firm cheese made from sheeps milk, it has a smooth and slightly nutty quality. Brilliant with crusty bread or with tapas!
After you are exhausted from sampling fresh empanadas, pastries, cheese, jamon and everything in between you can rest your weary feet and enjoy a cold beer, iced sangria and a tapas at El Quim one of about 3 tapas bars in the middle of the markets hub-bub.
The market although a bit of a tourist magnet is certainly impressive and not to be missed. Best time to visit is before 11 am before it gets too hot and crowded, that said I visited a second time at around 5 pm and enjoyed bargain juices (2 for 2 Euros).
Now to that Roman sauce factory. A short walk from the market is Museu D' Historia De Barcelona. If like me you are interested in history, it's a must visit. The museum covers the history of Barcelona, the highlight is the subterranean Roman ruins dating back to 2nd century AD. These include the excavations of a fish salting factory, a winery and a garum factory. Garum was a sauce that the Romans went crazy for, though given that it was made from fermented fish intestines I am not sure how keen I would be to splosh it all over my dinner. History nerd or not it was fascinating to see where the Romans prepared their prized culinary condiment nearly 2000 years ago completed my Catalan culinary journey through time.
Next stop Madrid (I will share an insight to the restaurants I visited in Barcelona shortly). What food markets have you visited and what was your favourite stall?