Vegetarian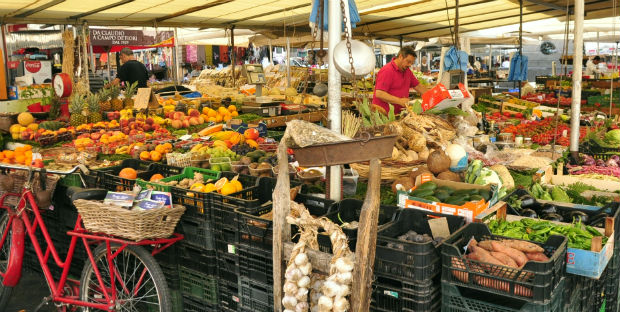 Published on August 22nd, 2013 | by Gareth
1
Campo de' Fiori market and green beans in tomato sauce
Some of my best thoughts of France involve the food markets. I remember being fascinated as a five year old when I saw live chicks and hens in wicker style cages, getting covered in sweet juice from fresh rock melon when I was about ten and screwing up my face up over gooey, smelly cheese.
Yep, sauntering around food markets in Europe is something of a passion of mine. The produce is so fresh it contains special mystical powers. For example, the smells alone can render an adult male, with a full stomach into a delirious, slavering idiot who appears not to have seen a food in days. The waft of fresh bread hits you, your eyes dart left then right as you hone in on the source. As you move in for the floured kill you are distracted, first by peppered salamis, then pungent cured hams, sweet fruit and then as you enter sensory overload the cheese counter hits you. Before you know it your arms are so laden with bounty, you resemble Obelix or Scooby Doo exiting the pantry.
The good thing about this trip was most it was self-catering, which meant I could make the most of all the wonderful goodies. This brings me to my favourite food market in Rome, Campo de' Fiori in Piazza Navona.  Campo de Fiori roughly translates as field of flowers and is Rome's oldest market. You will find fruit and veg, olive oil, Utensils, flowers, herbs & spices, charcuterie, 'affordable' underwear and dried pasta to name a few.
The market is open daily (except Sundays, I think) from about around 7am, (8am is perhaps the best time to get there). The stall owners are masters at displaying their produce for optimum appeal. They take things to a new level that would give any professional window dresser a run for their money. This is definitely a visual market.
I couldn't leave you without a recipe, so with my best Horatio Caine voice, "Now here's what I made with the produce". Green beans slow cooked in tomato sauce. This is a simple dish that brings out the hidden sweetness of the green beans and captures all their vitamin goodness. It's a smashing side dish or sprinkled with a little prosciutto makes a tasty main. If you have the time I recommend making your own tomato sauce – no preservatives, just good fresh flavours.
Rome is a manic, beautiful and magnificently historical city, especially if like me you are fascinated by the Romans of old. With so many impressive sights to explore, you soon build an appetite for a fresh market feast.
Preparation time: 15 minutes
Cooking time: 45 minutes
Ingredients
500g fresh green beans – washed, topped and tailed
½ red onion – very finely diced
15 ripe Roma tomatoes – roughly chopped. 2 cans of whole tomatoes also work.
2 large cloves of garlic – minced into a paste
2 fresh bay leaves
1 tsp. paprika
1 tsp dried oregano
Chilli flakes for a kick (optional)
Salt and pepper to taste
2 tbls. olive oil
Fresh basil or parsley to garnish
Method
Pre-heat the oven to 180 degreesC.
Lay the top and tailed beans in a oven proof dish.
Lightly fry the onion in half the olive oil for a few minutes over a medium heat.
Add the garlic and cook for a further minute.
Add the remaining ingredients including the rest of the olive oil.
Bring to the boil then simmer for 5 minutes.
Pout the sauce evenly over the beans until they are covered.
Pop in the oven for 40-50 minutes until the beans are soft and the sauce has reduced to a thick, deep red.
Garnish with the basil or parsley and serve hot.
Clearly fresh is best!
What's your guilty food market secrets?
Mine's the bakery and charcuterie.