Vegetarian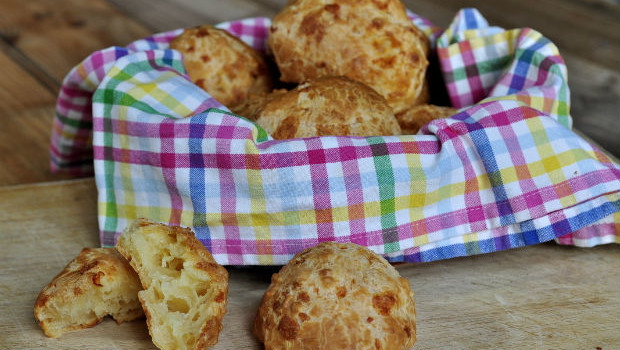 Published on July 27th, 2014 | by Gareth
3
Brazilian Cheese bread – Pão de Queijo
It's been another busy but exciting week at work. I don't make life any easier when I aim for perfection with everything.  But, when you have a lot on, you have to learn when to compromise in order to deliver on time.
To help me decide where I should compromise, my mantra has focused around 'effort vs. impact'. How much effort do you have to invest and how much impact will it make. And for the extra effort you put in, do you get much more impact? What's all this got to do with food? Sometimes it's worth going the extra mile with a dish, but 'quick and easy' or low effort – big impact, has a place in every kitchen. This recipe for Brazilian Cheese bread fits the latter.
Firstly Brazilian cheese bread or Pão de Queijo doesn't use cheese from Brazil, though you can use any hard cheese you like. There are quite a few steps but the most effort needed is a bit of oomph if decide to hand mixing the dough. Other than keeping track of the time, there isn't any skill required here either. The recipe originally appeared on thekitchin.
Prep time: 10 mins
Cooking time: 25 mins
Equipment: Saucepan, baking tray, mixing bowl, whisk, large wooden spoon, standing mixer with paddle (optional).
Ingredients
2 cups tapioca flour (starch)
2 eggs (room temperature)
1 cup grated mature Cheddar, Parmesan or Gouda cheese
1 cup of full fat milk
½ cup of vegetable or olive oil
1tsp. salt
Method
Preheat oven to 180degreesC.
Bring the milk oil and salt to the boil.
Remove the milk from the heat, add the tapioca flour and thoroughly mix. At this point, it will resemble a rubbery like globule.
Transfer the dough to your stand mixer or if like me you don't have one, the mixing bowl and a large wooden spoon.
Beat the dough until it becomes a smoother and less rubbery.
Set aside and in a separate bowl lightly whisk the eggs.
Don't add all the egg to the dough in one go. Add it in two batches; mix the egg into the dough before adding the second batch of egg.
By now the mix will resemble a thick batter. Stir in the grated cheese until you have a sticky scrambled egg consistency.
Spoon the batter onto a greased baking tray in approximately 12 even portions. Try to keep the dollops of batter as round as possible. Dipping the spoon in water in between each dollop helps.
Put the tray of batter in the oven and bake for about 25 minutes until golden. After about 10 minutes the batter will literally puff up into a ball.
These are best served warm, but will keep for a few days in a sealed container stored in the fridge.
How do you prioritise your to do list and when it's okay to cut a corner or two?