Desserts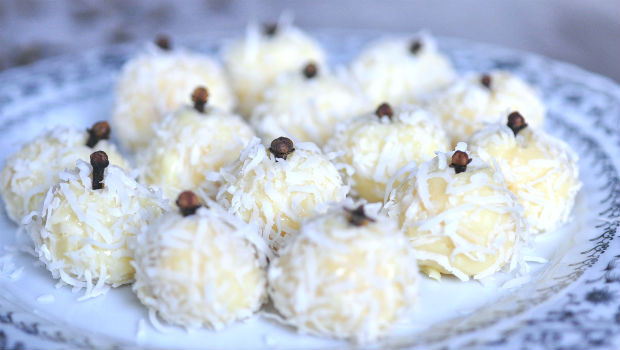 Published on June 23rd, 2014 | by Gareth
3
Beijinho de coco – coconut kisses
I'm not a massive football fan but when the World Cup comes around every four years, I get sucked into the footy fever. For the past couple of weeks I've getting up early to watch at least one game a day. Almost overnight I've acquired all knowledge on tactics, formations and player stats that a full time coach possesses. Madness.
But after England's early exit, I found my interest subsided just enough to find time to write a post. Since the World Cup has been the cause of my blogging tardiness, it's appropriate to share a few Brazilian recipes. Keep reading, this is still about food, not haircuts.
The first Brazilian dish I wanted to share is called Beijinho de coco, which translated means "little coconut kisses". Ahh that's cute, don't you think? Fluffy kittens aside, these traditional sweets are enjoyed by kids and adults in Brazil. They are dead easy to make, they taste rich, buttery and chewy almost like fudge without being too sweet. More tasty Brazilian recipes to follow, including one of their most popular dishes feijoada (pork and black bean stew).
Prep time: 5 minutes + 1hr to chill the mix
Cooking time: 15 minutes
Equipment: Saucepan, bowl, wooden spoon
Ingredients – makes 15
1 tin of condensed milk – (395g)
1 tbsp. coconut oil, or unsalted butter
1 ½ cups shredded coconut
Whole cloves
Method 
Heat the condensed milk, coconut oil and ½ cup of the shredded coconut in a heavy bottom pan over a medium/low heat.
Stir constantly to prevent burning.
After 10-15 minutes, the mixture will thicken. When it begins to pull away from the side of the pan (with the thickness of porridge or jam), pour the mix into a bowl and chill in the fridge.
Once firm and cooled, pour the remaining shredded coconut into a separate bowl.
Oil your hands with a little coconut oil (or unsalted butter).
Scoop about a teaspoon of the mixture into your hand and roll into a ball (approximately the size of large grape or stuffed olive).
Roll the ball in the coconut until completed covered, decorate with a clove and set aside on a plate. Repeat until the mixture is finished, then  chill for 10 minutes. Before serving.
So what distracts you most from getting through your weekend to do list?