Desserts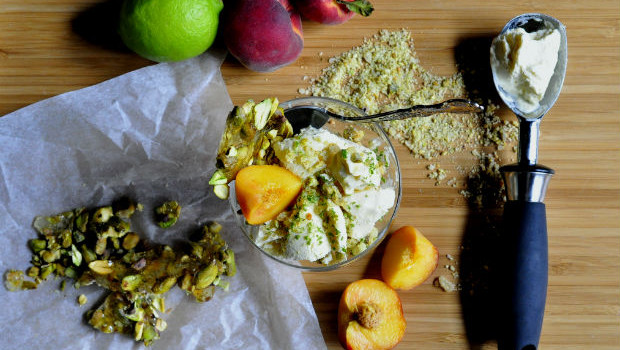 Published on November 23rd, 2014 | by Gareth
4
Coconut ice cream with pistachio praline
Sydney is enjoying/suffering a heat wave. With temperatures peaking in the high 30's (depending where you are), keeping cool was top of most Sydneysiders minds this weekend.
I love the heat, but I'm a fair skinned Englishman, so likely to spontaneously combust in this scorching weather. And since I don't have air conditioning, one of my favourite ways to keep cool (and avoid bettyswolicks), is homemade ice cream.
I'm fond of most flavours of ice cream, except that nasty, rainbow striped, and additive laden crap. However, one of my all time favourites has to be coconut.
But before I share the coconut ice cream recipe, did you know that the Italians didn't invent ice cream? Iced desserts date as far back as 400BC in Persia. The Chinese seem to be the first to combine milk, rice and ice as a dessert; it didn't arrive in Italy until 1295, courtesy of Marco Polo.
Back to the coconut ice cream, this recipe is courtesy of Anne Jones and I got it from 'Around the world in 80 dishes' by David Loftus. It's relatively simple to make and even easier if you have an ice cream maker. The pistachio praline, lime zest and nutmeg, transform a good ice cream, into a truly arse kicking dessert, worthy of a song.
Prep time: 40 minutes
Freezing time: 4-6 hours
Equipment: Large saucepan, small saucepan, 1ltr airtight metal or plastic container, ice cream maker (optional), food processor and two large bowls
Ingredients
400ml tin of coconut milk
3 egg yolks
500ml double cream
3 tablespoons shredded or desiccated coconut
4 tablespoons caster sugar
1 teaspoon corn flour
Toppings
Pistachio praline
100g unsalted shelled pistachios
100g caster sugar
80ml water
Zest of 1 fresh lime
Freshly grated nutmeg
Fresh ripe baby peaches – quartered, stone removed
Directions
Heat the coconut milk in a saucepan, but remove from heat just before it comes to the boil.
Whisk the egg yolks, corn flour and sugar until thick, pale and creamy.
Whisk in the hot coconut milk and return to a low heat for 5 minutes. Remove from heat and set aside to cool for 20 minutes.
In a separate bowl, whisk the cream until it thickens, almost to peaks.
Fold in the coconut milk mixture and chill the ice cream mix in the fridge for 20 minutes. Once cooled, pour the mixture into the airtight container and freeze. If you have an ice cream maker follow the machines instructions.
Non ice cream maker method – after two hours, remove the ice cream from the freezer and break down the ice crystals by whisking. Repeat again in two hours.
The praline is super easy; lay the pistachio nuts on a tray lined with greaseproof paper.
Put the sugar and water into a small heavy based pan over a medium heat. Bring to the boil but don't stir the sugar (it will ruin the caramel). As soon as the sugar syrup starts to turn golden, remove from the heat and pour over the nuts.
Allow to cool, then break into pieces or put into a food processor until it's the consistency of cous cous.
Serve scoops of the ice cream and fresh peach quarters. Sprinkle the pistachio praline, freshly grated nutmeg and fresh lime zest over the top.
So what's your favourite ice cream flavour and how do you like to keep cool?