Desserts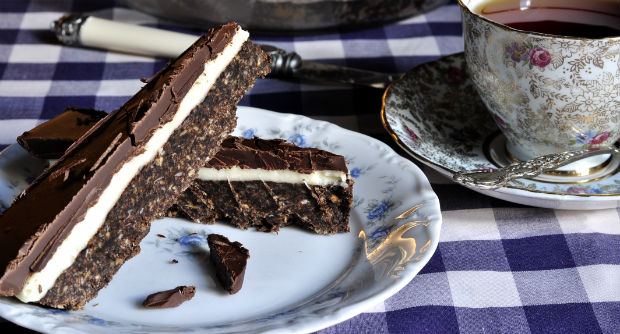 Published on November 24th, 2013 | by Gareth
2
Chocolate coconut slice
Ever had those moments when you just have to improvise and make do on a recipe? Today was one of them, I set out to make Al Brown's Mint Slice.  It's a delicious biscuit, mint and chocolate teatime slice that's bad for your gnashers but goes so well with a cuppa.
It was going to be so good, I intended to tweak the recipe to capture something of the 80's English classic 'After 8' mints. Mmm how I loved those delicate wafer thin slices of individually wrapped dark chocolate and mint cream.
But my plan came to a screeching halt. I was unable to procure peppermint essence, despite making visits to big Coles and little Coles – "Mr Coles, please note I'd like you to stock peppermint essence before Christmas please".  Not prepared to go sliceless, I decided to adjust the recipe to coconut instead (but not before I considered using toothpaste for the mint filling).
The Oreo/milk biccy combo makes for a solid but delicious base, as Grand Design's Kevin McCleod would say "without a good foundation, this type of design wouldn't  have a leg to stand on". The overall result is a fraction on the sweet side for me. I also feel it could do with a little more coconut punch, nonetheless, it's still a tasty morsel. But peppermint would have aced it though.
Prep time: 30 minutes
Ingredients
Base
1 pack of Oreo cookies – remove the white goop
½ packet of arrowroot or milk biscuits
170g unsalted butter
170g sugar – I used a mix of raw sugar and brown sugar
5 tbsp. cocoa powder
2 tbsp. shredded coconut
1 egg
Coconut filling
50g unsalted butter
1½ cups icing sugar
3 tbsp. shredded coconut
4-5 tbsp. boiling coconut water or water
6 drops coconut essence – get the best quality you can find
Topping
350g good quality dark chocolate
45g unsalted butter
Method
Line a flan dish or medium size slice tin, with baking paper. Set aside.
Put the sugar and butter for the base into a pan and melt over a low heat. When it starts to melt add the cocoa powder. Stir occasionally.
Once you've removed the sticky white gloop from the Oreos put them with the other biscuits in the blender until they resemble fine breadcrumbs and empty into a large bowl.
Once the mixture has melted allow to cool for 1 minute only. Beat the egg and stir into the butter mix. Pour the butter mix into the biscuit crumbs and stir until thoroughly mixed.
Empty biscuit mix into the tin/dish and press down firmly. Chill in the fridge.
In a clean bowl, mix the icing sugar, coconut essence, coconut and butter. Gradually add the boiling coconut water/water until you have a smooth but not runny paste.
Pour over the biscuit base and return to the fridge to set.
Now melt the chocolate, rather than faff with the glass bowl in a pan of boiling water, I just chucked the broken chocolate into a Pyrex bowl and put in a hot oven for 5-10 minutes until melted. Once melted add the butter, stir then pour over the coconut layer of your 'slice'.
Return to fridge until if has set hard.
Pop the kettle on and enjoy.
What's your greatest improvised recipe result?