Vegetarian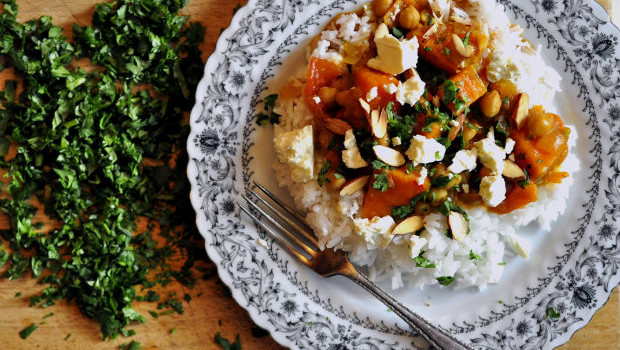 Published on December 22nd, 2014 | by Gareth
1
Sweet potato, chickpea and almond korma
Having a decent curry is essential prep for a great Christmas. More specifically a sweet potato, chickpea and almond korma. Sounds a bit random right? I'll explain.
I love Christmas; it's always been a magical time for me. And the Christmas dinner and mince pies make it ten times better. But, there can be a few drawbacks when planning to host family at Christmas:
A.)  There is often a lot of work involved. If your Christmas is anything like mine it's manic until about midnight on Christmas Eve. Prepping food, wrapping presents, making sure the house is spick and span (that's clean by the way), emergency trips to the supermarket (for the cream you forgot or because you start fretting there wont be enough to eat despite the 20 kilos of meat and veg).
B.)  Getting the family all in the same room, even once a year can be a bit stressful. It can be sparked off by the most trivial thing, like dietary requirements, Uncle Dave ate the last turkey leg or because a sherry fuelled grandma says what everyone else was told not to say.
So how does a sweet potato and chickpea korma curry help make the lead up to Christmas better?
It saves time because it's easy and tastes fantastic the next day.
Sweet potatoes have the following health benefits:

Low glycemic index, which means sustained energy and less likelihood of blood sugar level crashing.
They are rich in potassium, which helps relax muscles.
They are high fibre and packed with energy.
A good source of magnesium, which is important for healthy arteries and heart.
An excellent source in Vitamin C and D, both of which help maintain a healthy immune system.
Chickpeas are also a good source of protein, fibre, vitamin B6 and magnesium.
Something vegetarian before the ensuing meat fest, is something that your stomach will thank you for.
A shout out to my pals Minnesota Morgan and Dru, for putting me onto this recipe. It was originally from Jamie Oliver but can also be found on solitudehealth.com.au. This is now a firm family favourite.
Even if you're not a vegetarian, I encourage you to give this a whirl. It is full of flavour and the toasted almonds, feta and coriander to garnish; give the dish texture, salt and an aromatic quality.
Prep time: 5 minutes
Cooking time: 50 minutes – best made the day before though
Ingredients – serves 4 adults
1 can of chickpeas – drained
1 large brown or red onion – peeled and diced
2 medium sweet potatoes – washed and roughly chopped
1 bunch of fresh coriander
2-3 cloves garlic (optional) – finely diced
2 large plum tomatoes (optional) – diced
500ml vegetable (or chicken) stock
Whole almonds
Feta cheese, I like goat's milk feta, as it's crumbly and generally saltier
2 chilli's – finely diced (deseed if you want a mild curry)
1 tbls. Korma paste (I always use Sharwoods) – add more for extra heat
Handful of fresh curry leaves or 1 tsp. curry powder
1 lemon
1 tbls. Coconut oil, olive oil or vegetable oil, will suffice
Rice
Directions
Heat the oil in the pan over a medium to low heat. Cook the onion until soft.
Stir in the garlic and cook for a few minutes.
Add the sweet potato and cook until golden.
Add the korma paste, diced chilli and curry leaves/powder, cook for a further 2-3 minutes.
Add the tomato, stock and chickpeas, along with the stalks from the coriander (finely chopped).
Bring to the boil, then reduce temperature, cover and simmer for 40 minutes.
Roughly chop the almonds and toast in a pan and set aside to cool.
Serve on a bed of rice and squeeze the lemon juice over the top
Chop the coriander leaves and sprinkle them on the top of the korma along with crumbled feta and the toasted almonds
Serve paratha or naan and a Kingfisher beer.
PS Sorry i't taken so long for a post, fatherhood can be quite demanding of your time I've discovered