Pork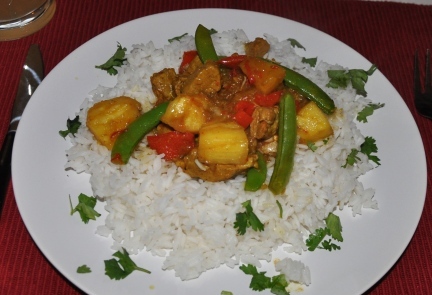 Published on May 27th, 2010 | by Gareth
Pork, Pineapple and Capsicum Curry Recipe
With winter on its way down under, what better dish to make than a hearty curry? I am not a big fan of curries that are swimming in sauce. Traditional curries tend to have enough sauce to cover the meat or vege's as opposed to what some takeaway establishments serve i.e. enough to fill a paddling pool.
In a change from traditional beef, lamb or chicken I have used pork. Chicken would work equally well though and its a more halal friendly.
Preparation time: 10-15 minutes
Cooking time: 1 ½ hours
Ingredients:
1 tblsp Olive or canola oil.
500g pork, diced. 1 Chilli pepper.
½ Large red capsicum (pepper).
50g Peas (frozen are fine). I used snow peas.
¼ Fresh pineapple cubed.
1 Large onion, brown or red quartered.
300ml vegetable stock
2 Cloves chopped garlic.
2 Heaped tsp curry powder (level tsp if not a spice fan).
Heat the oil in a pan, season the pork with salt and pepper and add to the pan. Seal and brown the pork on each side. Remove the pork and set aside on a plate.
Return the empty pan to the heat and add the onion, cook for 5 minutes or until a deep golden. Add the garlic, spice and chilli pepper. Keep stirring vigorously for the next 2 minutes to ensure the spices don't burn.
Add the pork and the stock; bring to a simmer then cover. Simmer the curry on a low heat for 1 ¼ hours stir every 20-30 minutes and top up with water if the curry gets too dry.
After 1 ¼ hours add the capsicum and simmer for a further 15 minutes. Ideally this should be cooked 1 day in advance and left to infuse the flavours overnight. If you can't wait though add the peas and pineapple (skinned and cored) in the last 5 minutes to simmer.
Serve the pork and pineapple curry on with basmati rice and mango chutney, garnish with fresh coriander.