Reviews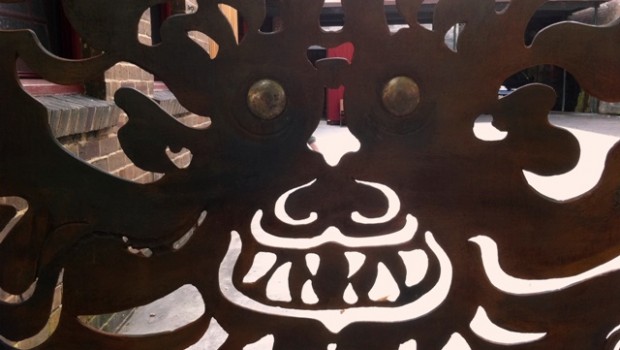 Published on January 1st, 2011 | by Gareth
0
Blue Eye Dragon Restaurant
Had it not been for the eye catching, artistic iron gate I might never have found this place. Hidden away from the rest of Pyrmont's restaurants next to St Bede's church and in shadow's of the sprawling 'mega casino' is Blue Eye Dragon Taiwanese restaurant.
Don't let the quiet leafy Pyrmont backwater fool you though, booking is advised for dinner as it gets pretty busy.
Once inside you are treated to a unique dining experience which appears to be set in the old church hall. We are shown to our table, which happens to be on what was the old stage. I am happy with this as it provides a good view of what's going on.  The décor is contemporary, the staff very attentive and the table cloths are starchy – in a good way. We order a selection of dishes to share and waste no time in tucking into the entrees that are served very promptly.
Stewed beef shin, finely sliced served with cooked shallots and drizzled with sesame oil ($10), prawn spring rolls and vegetable spring rolls with house plum sauce ($12 per serve). The spring rolls are as good if not better than any I have had in Sydney; light and crisp (not too greasy like so many other places) with fresh and fragrant herbs. The beef has a melt in your mouth quality. This is perhaps a bit cliché but it genuinely dissolves in your mouth leaving you wanting more.
Mains, sizzling chicken with basil in sanbei sauce ($26), Slow cooked pork belly ($22) and Chicken chilli curry ($22).
The pork belly is a favourite of mine the slow cooking has left the fat to a sweet and sticky, the aniseed and soy cuts through beautifully. The sanbei sauce with the sizzling chicken is heavenly even when it stops sizzling.  Though with so many rich flavours making demands I recommend ordering some steamed vegetables to balance.
Service at Blue Eye Dragon is attentive without hovering over your shoulder like an irritating cocky young suit sales assistant. The bathrooms are clean, modern and even a tad serene. My only regret is that I didn't order the dumplings but you have to leave a reason to go back again.
Blue Eye Dragon Taiwanese restaurant
37 Pyrmont st, Pyrmont, Sydney Tel: 9518 9955