Reviews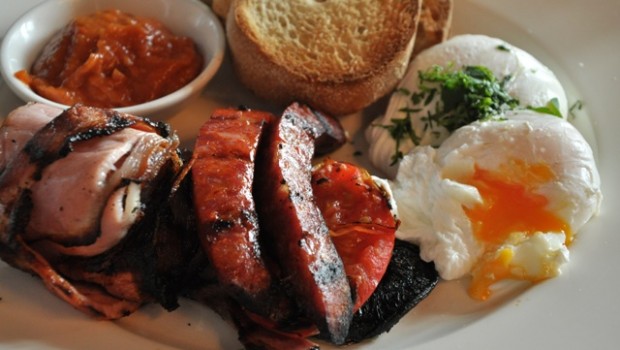 Published on July 31st, 2011 | by Gareth
1
Cafe Morso, Pyrmont
Breakfast for me Monday to Friday is a relatively unexciting affair. It usually comprises of something like porridge with honey and a few chopped strawberries (it is winter after all). So when the weekend arrives I like something more inspiring, going out for breakfast is something that I particularly enjoy, especially when we have visitors.
When a Canadian friend visited from NZ a couple of weeks ago we decided to hit the asphalt and give them a tour of the area with the reward of brekkie at the end of the walk. The sky was azure and the sun's warmth permeated to the bones in a way that reassured spring was not far away. We headed to Jones Bay Wharf in Pyrmont, home to the notable Flying Fish and a choice of several well appointed cafes. We chose Café Morso which is located about half way along the West side of the wharf.
Café Morso, winner of Best Breakfast Restaurant 2009 and 2010 are no slouch in the dinning stakes. They have a spacious outdoor area where you can enjoy the sunshine admire the boats and enjoy the peaceful surroundings. The décor is nice though a little bit polished and poncy for my taste and the staff are very easy on the eye. All the staff are helpful and accommodating and don't ration friendly smiles. Oh and mums, they are kid friendly too.
The salmon gravalax carpaccio ($16.50) with wilted spinach, avocado salsa and poached free range eggs was perfect if you are looking for a light and healthy breakfast that doesn't compromise on the taste stakes. It's also a nice alternative to the usual eggs benedict and salmon – much as I enjoy Hollandaise sauce, unless its fresh and expertly made,  it can be a bit heavy and gluggy.
Now I have to confess to not being as food star struck as some are by truffles. Sure they taste good, they are notoriously tough to cultivate and we rely upon pigs and dogs to sniff them out, but I tend to think they can be over rated – don't hate me fellow 'foodies'. However, Café Morso's sautéed wild mushrooms with truffled scrambled eggs on Sonoma sourdough ($17.00) was about as good as scrambled egg and mushrooms can get. Light and rich at the same time, they rocked my taste buds and I could have happily eaten two plates of this.
Breakfast out would not be complete with out at least one…or two traditional 'big breakfasts' You know what I am talking about here, bacon, sausage, tomato, eggs and toast. The Cafe Morso breakfast ($18.00) delivered all of the above but with a hint of Europe. That's Chorizo to replace the bangers, a few rashers of excellent bacon and a good serve of those all too good mushrooms, not to mention a near perfect poached egg.
Even the fresh orange juice was thigh slappingly good. But that's precisely what I like about this place, fantastic produce, relatively uncomplicated dishes that let the flavours of the food be heard!
Plus I think given the location its good value. Exactly how a relaxing Sunday breakfast should be.
Café Morso
Lower Deck (West side)
Jones Bay Wharf
Pirrama Road
Pyrmont
Tel: 02 9692 0111
http://cafemorso.com.au