Reviews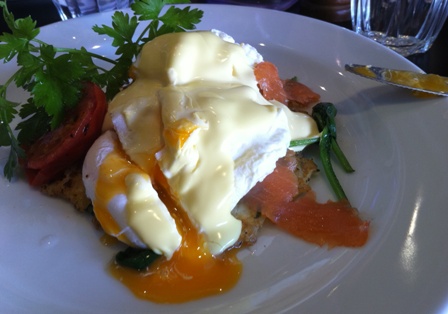 Published on January 17th, 2011 | by Gareth
0
Saffron Cafe
Glebe is a Saturday morning favourite in our flat. In the summer Glebe market provides a wonderful shaded gift shoppers dream perforated by the sweet, moorish smell of roasted caramelised peanuts and fresh homemade pinelimeade (pineapple and lemon/lime). The unique surrounding shops sell everything from second hand books to Middle Eastern ceramics plus a lot in between including gypsy 'boho' scarves, antique glassware and retro furniture. It's a wonder that 'Trotters Independent Traders' don't have stall, selling ex Russian military video cameras.  It all rather reminds me of a smaller version of London's Camden market, which is perhaps why I like it so much.
Of course after an amble around such a magnet for creative and cultural commerce you find yourself getting peckish. This is where Glebe accelerates, grabs the baton and crosses the finishing line, not so much because it's a gourmets Mecca but because it offers a great selection without the attitude found elsewhere. The biggest challenge (apart from trying not to laugh at the 'trend setting intellectual wannabes' sorry, hipster dickheads) is choosing where to eat.
We recently went to Saffron. We'd been there before it was called Saffron but as it's under new management, thought that we would give it a whirl. The décor is pleasant and inviting with airy high ceilings and polished wooden floors. Unfortunately the relaxation began to turn to agitation after waiting at our table for 20 minutes trying to get the staff's attention.  In case it doesn't show I get a bit grouchy about poor service, especially when I am hungry.  I mean even if you are flat out surely its good practise (and manners) to acknowledge the customer and inform them you will be with them shortly?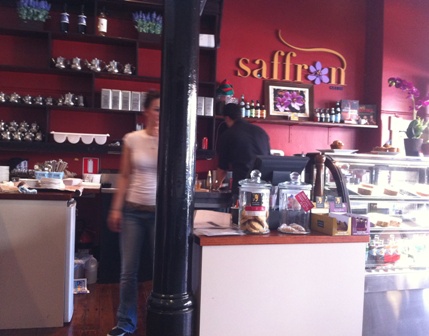 Eventually the orders get taken; iced coffees,  eggs Benedict with smoked salmon and spinach, scrambled eggs and the house big breaky.  It's not very adventurous but has us whetting our lips. Then the waiting begins again followed by mix ups with the iced coffees and forgetting one of the drinks.
The wait for the food was a bit too long and the café wasn't exactly busting at the seams with punters.  When the food does arrive the big breaky has become the Mediterranean breakfast platter but as we are hungry we just take it. Luckily for Saffron the chef saves the day.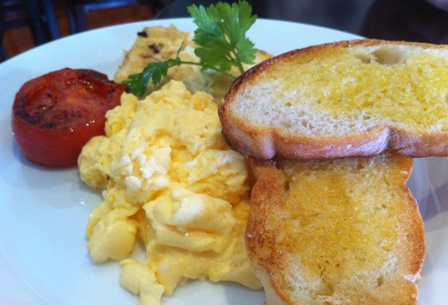 The egg plant and mushrooms with the Med breakfast are damn good and not at all soggy. The poached eggs are deep yellow and runny and the toast is bronzed and crunchy. The hollandaise sauce was plentiful though I would prefer it to have been a little richer flavour. There wasn't a bland morsel in sight and not a scrap left on anyone's plate at the end.
When I explained about the big breaky mix up the chappy in charge apologised and waivered the charge for the Med breakfast.
On summary I think that the front of house staff and manager were a little green in the experience and service department. I cannot really find anything bad to say about the food; in fact it was good enough to stem a blog rant on my part so credit to the chef. I think that I will give Saffron another go but I will wait a while for them to find their feet with their table service first.