Reviews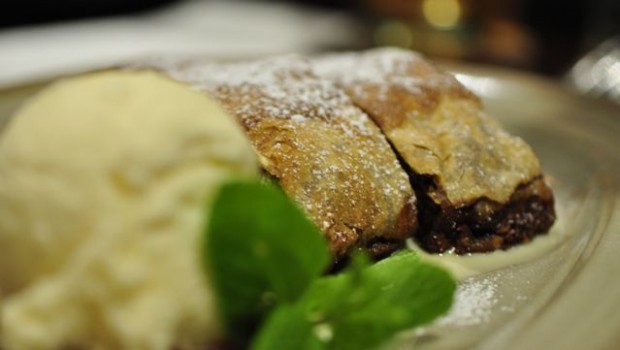 Published on July 22nd, 2012 | by Gareth
4
Tommys Beer Cafe
YQ86Z9GZE34Z
Friday night marked the end of my first week at a new job, this called for celebration. In fact it was a double celebration as 'Petra the Czech' had recently become an Aussie citizen. Given her husband, Ian is a keen beer fiend, toasting with a big Czech beer was an appropriate way to acknowledge the 'old country' whilst honouring the new one at the same time.
Tommy's Beer Café in Glebe doesn't look that special from the outside but once you enter you cannot fail to notice the Euro vibe. However unlike the current financial crisis in Europe there is nothing gloomy about this place on a Friday night. The warmth is immediately felt when, no sooner through the door and we are greeted by a smiling, thickly accented (in a good way) waitress.
First priority is to quench the thirst. A tray of 'big' Budvar's and Bernard pilsner larger is promptly dispatched to the table with giant fresh baked pretzels served with butter plus a bowl of pork crackling strips. It's a fail for the arteries but a triumph of simple companion flavours. I also had my arm twisted to sample the traditional plum brandy slivovitzh, it is a celebration after all.
Like the liquid selection the food menu has a distinctly Eastern European theme featuring specialties from Czech Republic, Hungary, Slovakia and Austria.
The girls order with a conscience (a case of the perpetual diet I suspect) opting for the forest mushroom goulash with green capsicums and smoked paprika. Attractively presented in a black mini cast iron pot with a quarter loaf of sourdough bread and a pesto dipping sauce. It has a rural feel to it and tastes pretty good.
The trio of sausages including German Bratwurst, Swiss Bratwurst and cheese Debreziner isn't for those with a meager appetite. Served with mash, sauerkraut, a beer jus and onion jam it's a real feast for the hungry.
Struggling with the pronunciation I opt for svickova. This is a slow braised beef eye fillet with root vegetable sauce (though it tastes quite 'tomatoey') and large doorstep slices of bread dumplings. I really liked this but in hindsight would have added some greens to it, which I think might be illegal in the Czech Republic as the options for veg include cabbage or root vegetables.
Our orders were all specials, however on previous visits I have tried the braised beef cheek with dark beer and rosehip jus and roast pork knuckle, which are equally delicious.
Amazingly we still found some room for the apple and walnut strudel with ice cream and a vanilla/rum anglaise. Full but glad room was made because it tasted as good as it looked.
I really enjoyed Tommy's; I have been there several times now and find the service friendly, the beers large (and judging by a dull ache in my head the next day, packing a punch). The food is great value and whilst not many of the options can be labeled healthy, it all tastes good and you certainly wont leave feeling hungry.
Marking the occasion of a positive change in life is important, it recognises progress and something significant along life's path. All in all this was a great celebratory night as it included all the right ingredients: loved ones, friends, laughter, humble but hearty food and a comfortable environment. The booze I am sure facilitated more laughter. How and where do you like to celebrate a special occasion?
Some of the photographic credit has to go to 'Petra the former Czech now Aussie'. On spotting my new macro lens she pleaded excitedly to have a play and took a couple of rather appetizing shots.
123 Glebe Point Road, Sydney but also on 42 Kellett St. Potts Point, Sydney.