Reviews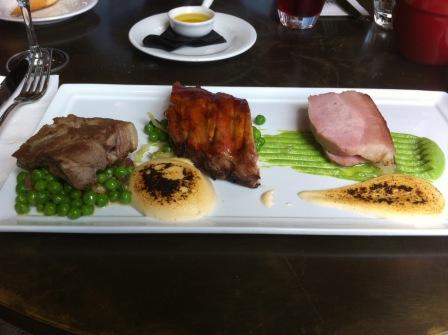 Published on November 28th, 2010 | by Gareth
0
Baroque restaurant
I was fortunate enough to recently be taken for lunch at Baroque by a good friend. Baroque French "bistro, bar and an unforgettable patisserie" is located in Sydney harbour with pedigree chef, Peter Robertson. With so much to offer it is hard to know where to begin my review.
Now let me apologise for the lack of images, they do exist but I am experiencing some temporary technical difficulties in loading them.
Let's start with the location. Its fantastic, set in a old wharf style brick building in the heart of The Rocks, diners can enjoy a good view of Sydney's coat hanger Harbour Bridge – just in case the food is in some way insufficient to keep them captivated.  As soon as you enter, you cannot fail to notice the open light filled room with high vaulted ceiling. The main dining area is apparently architect designed 'combining modern textures with a rustic industrial edge". To me that sounds like something that a real estate agent with a big quiff and a powder blue tie would write. The polished copper finished, giant angular mirror and lamp shades instantly remind me of the classic (but very pricy) French copper cookware crafted by Mauviel. White washed walls, exposed ceiling timbers and wrought iron pieces give it an almost country manor kitchen feel. I like it and it seems to make me feel even hungrier.
Now to what is happening in the business end of Baroque. The majority of the kitchen is open enough for people to see their meal being created, which for a kitchen nerd like me is a plus. As mentioned Peter Robinson is the head chef. In his time he has worked with some of the greats including Alain Ducasse a French favourite of mine, so I know I am in for a treat.
My lunch buddy orders 3 ways pork. This consists of a beautifully presented plate of pork spare ribs, a tender portion of gammon and braised pork belly. This is served with pea puree and mustard foam. The ribs are succulent, meaty and sticky but not barbeque sauce sticky this is purely from the meats own delicious juices. The sweetness and brilliant colours of the pea puree is always a winning combination with the salty pale pink gammon. The braised pork belly with the mustard and apple cider foam meringue has to be the favourite of this dish, delicate yet robust.
I decide to try something a little different and go with the pig's tail because it is a real 'waste nothing' type of dish. Presented in a nest of fresh sweet broad beans and baby basil it looked pretty good. The tail (as far as I can tell) was braised, crumbed then lightly fried. It's quite fatty and very gelatinous. The flavour is good and the beans add great texture on the tongue. I confess to finding the remaining hairs on the tail to be a tiny bit off putting but perhaps I am just being soft.
Like any good French restaurant the abundance of fresh bread in your tables basket is not overlooked which is always well received by a hungry chap like me. At approximately $25 per meal I think it's fairly priced too.
Baroque cleverly captures a good balance of traditional bistro informality that is so endearing to France but subtly lifts things so you get a sense of occasion without being too stuffy. That said I still wouldn't slouch when the waitress came round.
All in all I would recommend Baroque it presents an exciting menu of modern French cuisine. It is also one of the few places that I would go solely for dessert, the macarons and pastries are worth arm wrestling for. I am particularly keen on the blackcurrant macaron with cassis flavoured white chocolate. It might be the new cupcake and a tad dainty for blokes but the flavour punches above its weight, a big tick in the box for posh cake.
Baroque Bar, Bistro and Patisserie, 88 George St, The Rocks. Menus