Desserts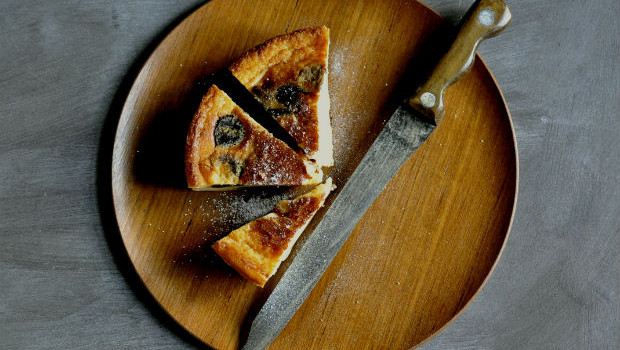 Published on November 3rd, 2014 | by Gareth
1
Far Breton – baked custard tart with prunes
I don't have a massive sweet tooth, favouring savoury over sweet most of the time. Except, when it comes to French pastries and cakes. Éclairs, tarte aux pommes, petit fours, love them all, especially the custard tarts. All time favourite is tarte aux flan. Second favourite is Far Breton.
Far Breton as the name suggests is from Brittany, (North West France). It's the regions signature dessert. A baked custard flan sweetened with prunes. Simple yet impressive.
Determined to start young Julius's (Lord Poo-Farty), culinary education as early as possible. I made this yesterday, talking him through what I was doing at each stage. I think the reason why I chose to start with Far Breton, was because my first international holiday was in Brittany (age 4). No idea, whether I had a slice of Far Breton, (I'm told I was a fussy lil chap in those days), but I do remember catching razor fish.
I've been back since and this recipe for their prune custard tart definitely passes the test for authenticity. It's rich and thick, but light at the same time.
One day I'd like to take Julius to Brittany, share food adventures and collect razor fish. Until then, we'll keep on cooking.
Preparation time: 2 hours (to soak the prunes)
Cooking time: 1 hour
Equipment: 20-30cm wide deep earthenware dish or deep flan tin
Ingredients
25 prunes
250g plain flour
1 ltr full fat milk
150g caster sugar
4 eggs
1 tsp. vanilla extract
Pinch of salt
60ml of rum
50g butter
Directions 
Place the prunes and rum in a bowl, top up with warm water (boiled) or black tea, until the prunes are submerged. Set aside to soak for two hours.
After the prunes have finished soaking drain and set aside.
Preheat the oven to 200 degreesC and grease the earthenware dish/flan tin with butter.
Melt the butter in a saucepan and remove from the heat.
In a large bowl mix the eggs and sugar with an electric beater until creamy.
Stir in the vanilla extract, butter and milk. Gradually sift the flour and salt into the bowl, whisking as you go until there are no lumps.
Pour the custard/batter into the earthenware dish/flan tin and gently drop the prunes into the batter one at a time spacing evenly. Alternatively you can put the prunes into the bottom of the dish and pour batter over.
Bake in the oven at 200 degrees for 10 minutes, then reduce the temperature to 170 and bake for 50 minutes or until browned on top. To test the custard is cooked, insert a knife into the middle, if it comes out clean, it's cooked.
Remove from oven. Dust with icing sugar and serve warm of cold.