Desserts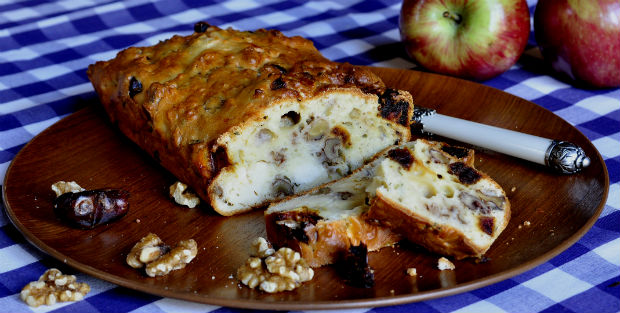 Published on March 18th, 2014 | by Gareth
1
How to make a sugar free, butter free cake, taste good
The foundation of all good cake begins with whipping butter and sugar into a pale, fluffy and creamy state. Without these 'primary' ingredients it just isn't cake, it's clearly an imposter showing a bit of leg to attract the lactose intolerant.
The trouble with cake built on butter and sugar is, if like me you have an 11am/3pm snack attack habit and you quench it with cake…. before long you're going to turn squashy.
So traditional cakes are a bit calorific, but taste wise the alternatives just don't measure up, do they? Healthy cake may sound a little contradictory, but it turns out that it can taste pretty damn good; particularly if you make a French savoury cake.
Okay healthy, might be pushing the boundary a bit, I wouldn't recommend it as part of a daily diet. But given that this recipe uses natural low fat yoghurt with 0.09g of saturated fat per 100g versus butter that has around 54g (plus it's sugar free), I think the advertising standards people will be lenient.
If you have a sweet tooth, stay with me, savoury doesn't mean this recipe has nothing to offer you. The dried dates provide a delicious sticky, sweet contrast to the slight bitterness of the walnuts and the tang of the goat's cheese. The recipe is also very adaptable, you can easily swap out the dates for prunes, figs or sultanas, the walnuts for hazelnuts or pistachios etc. In short the only box this doesn't tick is for the gluten intolerant.
Preparation time: 10-15 minutes
Cooking time: 40 minutes
Equipment: Mixing bowls x 2, whisk or food mixer, standard loaf or cake tin.
Ingredients 
200g plain flour
120g goats cheese – grated or cut into small cubes
180g low fat plain yoghurt
3 eggs
2 tbsp. fresh thyme leaves
¼ tsp. nutmeg – optional
80g dried dates – chopped (figs work well too)
60g walnuts – roughly chopped
1 ½ tbsp. baking powder
4 tbsp. olive oil
½ tsp. salt
½ tsp. black pepper
Method
Preheat oven to 200C.
Grease a loaf tin, or line with baking paper.
Sift the flour into a mixing bowl and mix in the salt, pepper, baking powder, thyme and optional nutmeg.
In a separate bowl, whisk the eggs, then whisk in the yoghurt and olive oil.
Fold the wet ingredients into the dry ingredients but don't over mix.
Fold in the dates, goat's cheese and walnuts. If the mix feels too stiff or dry add 100ml of milk.
Pour or spoon the mix into the loaf tin and bake for 35-40 minutes until golden brown and so a skewer comes out clean.
Serve hot. It's also a nice addition to a picnic with salad or even toasted.