Seafood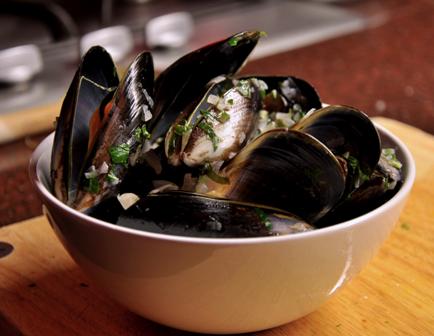 Published on February 12th, 2012 | by Gareth
5
Moules Mariniere
After almost a month's absence, Humble Crumble is back with the first post of 2012. My time has been occupied with learning to sail, ultimately this will culminate (with some years of practise) in completion of one of my bucket list goals; to take part in the Sydney Hobart offshore sailing race.
Yesterday, after a hard afternoon of capsizing and cursing the fickle shifting winds, I was ready for something straight forward and hearty to eat. What better dish could there be than the Frenchy coastal classic of moules mariniere. Simply translated this means mussels in white wine, onions and herbs. Everyone who delights in the pleasures of seafood needs to know how to cook this.
My first taste of this traditional dish was years ago near St Malo on the coast of Brittany in Northern France. The mussels were small, the liquor sweet and salty. This like much French cuisine belongs with a big piece of fresh crusty baguette. From the moment I tasted this, I was hooked.
I have made this several times with NZ green lipped mussels, which are fantastic for paella's and pastas but I found them too big and meaty. When it comes to moules mariniere smaller shellfish varieties are definitely the way to go, they are always so much sweeter! Black shelled Boston Bay mussels are ideal and South Australian based Kinkawooka Shellfish offer the perfect solution; a 1kg bag of fresh, cleaned and de-bearded black mussels – vacuum sealed to stay fresh and leak free. The only regret of using these was that I should have bought 2 bags. They were absolutely delicious and whilst pre-cleaned is cheating a little, they were a welcome solution to a tired trainee sailor.
Ingredients
2 kg mussels-  scrub and de-beard the shells before cooking.
1 large knob of butter (20gms or 2 tsps)
2 tblsp chopped fresh flat leaf parsley
3 Shallots (or 1 small onion)
2 cloves garlic
3 sprigs fresh thyme
2 Fresh bay leaves
1 large glass of dry white wine (150ml), cider is also a great alternative.
Freshly cracked black pepper
Method
Preheat a large lidded saucepan (a 5 litre stockpot is a good option), over a medium heat.
Finely chop the shallots or onion.
Add the butter to the pan and as soon as it has melted add the shallots.
Fry them until they begin to soften but not to the point that they brown.
Crush and roughly chop the garlic then add to the pan and fry with the shallots for further minute.
Add the wine, bay leaves, thyme and chopped parsley and bring to the boil.
Reduce the heat and add the mussels and pepper. Cover with a lid and cook for 2-3 minutes or until the mussels open.
Discard any unopened mussels (if you eat one of the unopened ones you will likely be pretty ill so avoid).
Serve in a bowl whilst hot with a good ladle full of the sauce and a large chunk of crusty bread.
This will serve four adults as a starter or two mains.