Vegetarian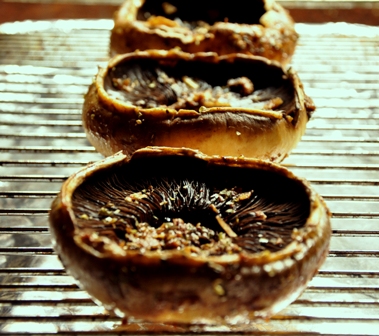 Published on May 5th, 2012 | by Gareth
4
Mushroom burger
Before I head out to the markets today there is time for a quickie, blog post that is. As it is the weekend I wanted to share something that is straight forward, delicious and an ideal solution to dinner on Friday or Saturday. Burgers! Vegetarians, stay with me as this one is for you. It's a burger that vegetarians and carnivores alike can enjoy, it's a mushroom burger.
You could be forgiven for thinking that a mushroom burger is the reserve of vegans, dieters and hippies, definitely not the case here. I had my first portabello mushroom burger in Vegas  recently and saw them on a lot of menus in California. It was meaty and filling, but at the same time wasn't meat which at time was a seriously welcome break. I looked at a lot of different recipes before settling on this one which is a combination of my favourite bits of other mushroom burger recipes. I recommend a bit of experimentation with the marinade though to suit.
Ingredients
 4 large flat mushrooms (field or portabello are great, wild mushrooms are better – just make sure they are safe to eat)
4 burger buns
1 large red capsicum
Baby cos lettuce
 1 red onion
1 large clove garlic, chopped and crushed
1 tsp dried oregano
1 tsp fresh chopped parsley
3 tblsp olive oil
2 tblsp balsamic vinegar
2 tsp Worcestershire sauce
8 slices mature cheddar (or whatever your favourite cheese is)
Method
Roast the capsicum. I cheated a little by deseeding and cutting into quarters and putting on the griddle (broiler) pan
When the capsicum is tender and charred set it aside to cool.
Finely slice the onion and gently heat in a pan with a teaspoon of olive oil. Cook until soft and translucent.
Next make the marinade: In a large bowl mix the olive oil, crushed garlic, oregano, parsley, balsamic vinegar and Worcestershire sauce.
Season the marinade with a little salt and pepper.
Evenly coat the mushrooms with the marinade, cover and set aside for 10 minutes to bring all the flavours together.
Remove the charred skin from the capsicum. It's not essential but the skin does tend to be a little bitter.
Cut the capsicum into strips.
Prep your lettuce and cheese.
Grill the mushrooms for 5 minutes per side. Start with the round side up, turn after 5 minutes and add the cheese to the cup and grill for another 5 minutes to melt the cheese.
Toast the buns and then build your burger, topping the burger with the roasted capsicum strips and onion.
Dress with your favourites, I used tomato sauce, American mustard and gherkins.