Vegetarian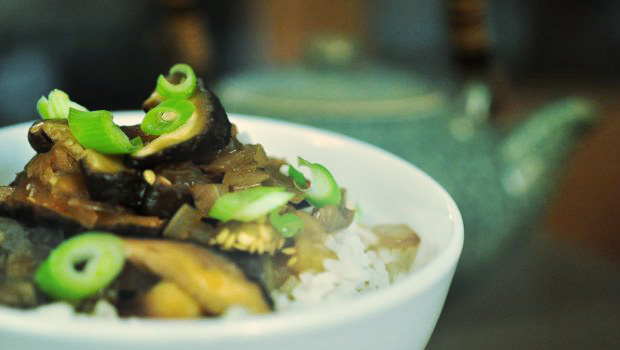 Published on March 26th, 2013 | by Gareth
2
Cooking Chinese – Egg plant and Shiitake mushroom
Do you ever find yourself mentally building up a task to be bigger than the Great Wall of China; only to realize once you get stuck its very achievable? Well this is what I have been like about cooking Asian food, Chinese cuisine to be exact lately. Which is ridiculous! Its not that I'm not adventurous, far from it – though there are plenty of Brits that are scared of any plant matter that isn't a chip. What it really comes down to is laziness. With lots on, it's so easy just to slip into a routine of the same old meals week in week out. Ever experienced this? Well if you have I recommend fighting it and do your creative brain matter a favour.
In celebration of challenging tired repertoires here's something new – aromatic egg plant and mushroom. And I got it from a fashion consultant. Gok Wan is Chinese, Anglo Chinese to be precise; he's a funny, flamboyant fashion consultant/TV presenter in Britain. I watched one of his cooking programs (his parents had a Chinese restaurant where he learned to cook) on the return flight from Melbourne. He walked through some of the classic British favourites on the Chinese menu. I loved the show because it demystified recipes that I grew up with (we Brits have been enjoying Chinese cuisine since the 1800s – though not me personally).
This is a simple two-pot dish with a minimal number of ingredients. So don't sit reading this and think it's too difficult because it isn't (unless you can't read English). Because of the fish and oyster sauces its arguably vegetarian (a few of my vege pals indulge in seafood), but I've categorized it under vegetarian. Get amongst it and get out those chopsticks you nicked from the local restaurant.
Preparation time:  10 minutes
Cooking time: 20 minutes (tops)
Feeds 4
Ingredients
1 large onion – [peeled and finely chopped
2 cloves garlic – chopped and crushed
2 medium aubergines (egg plant) – quartered lengthways then cut in half (8 pieces if like me you're rubbish at math's).
15 fresh shiitake mushrooms (dried work equally well) – Sliced. I love these mushrooms, for a start it means I can mispronounce it as shit-take. Can't find shiitake mushrooms? Doesn't matter try porcini or field mushrooms in fact any mushrooms, though dried shiitake or porcini deliver a meaty flavour hit.
2 handfuls of fresh beansprouts (I used spring onions instead for added colour)
2 tbsp. soy sauce
4 tbsp. rice wine (a light sherry works if you can't find rice wine)
4 tbsp. oyster sauce
2 tbsps. fish sauce
1 tsp. sesame oil
White rice (1/2-1 cup per person)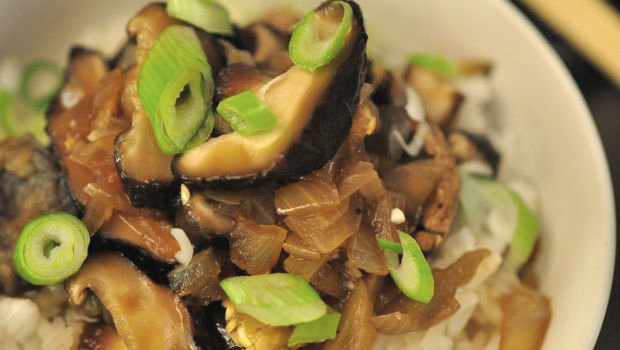 Method
Cut the aubergine into eighths and immediately submerge in salted water to stop them going brown and remove some of the bitter flavor.
Wash the rice thoroughly to remove excess starch. Put in a pan and pour water (or stock) so it is 1 inch above the level of the rice.
Bring the rice to the boil then cover the pan and reduce to a low heat. Simmer for 7-10 mins until the water has disappeared, by which time you should have perfect rice.
Cook the onion in a pan with a teaspoon of oil (canola is fine).
Once soft and golden add the garlic and cook for a minute or two, stirring to prevent burning.
If you used dried mushrooms you will need to soak in warm water until soft and rehydrated. Slice and add the mushrooms but don't discard the water.
Add your 4 sauces; adjust the amounts to suit your taste.
Simmer for a minute then dry the aubergine/egg plant and add to the pan.
Add the mushroom water if you have dried mushrooms (but don't pour all of it in it as the last bit usually contains a bit of gritty sediment). Cover the pan and simmer for 15 minutes.
In the last 2 minutes add the beansprouts to the pan (or immerse in boiling water for a minute to soften then and just before serving).
Stir in the sesame oil
Serve on rice with freshly chopped spring onions.

You might have noticed my pics this week look a little different, in the theme of trying something new I had a play with a photo editing program. Generally I just crop my pics so I'd love any feedback you have to offer.

Is there a particular cuisine that you avoid because you feel it is complicated to make?