Vegetarian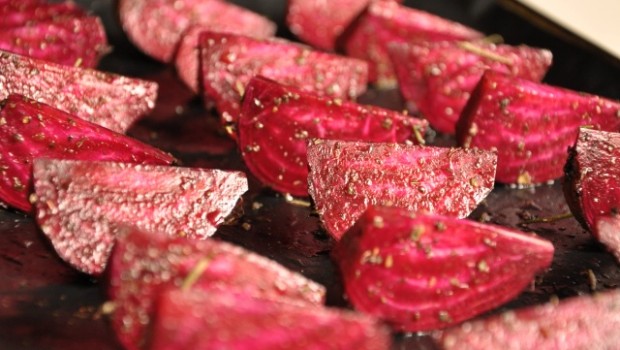 Published on January 26th, 2011 | by Gareth
8
Roasted beetroot chips
Straight forward, colourful alternative to potato wedges. Beetroot chips are perfect for pre dinner/barbie snacks with tzatziki or sour cream.  They are also a fun and healthy way of getting kids and the 'meat and spuds' brigade to eat 5 a day. You know the ones I am that I talking about, they tell you that salad doesn't agree with them and follow up the name of any green vegetable with the word "yuck" whilst poking their tongue and clutch their stomach as if it makes them sick.
Beetroot is also lower in carbs than spuds, so handy for the new year diets.
Preparation time: 5 minutes
Cooking time: 40 minutes
Ingredients (4 people)
4 medium sized beetroot, as fresh as possible
Olive oil
Freshly ground salt and pepper
Dried basil
Fresh rosemary
Fresh thyme
Method
Preheat the oven to 150 degrees.
Wash the beetroot, cut the leaves and stalks off and remove any roots. The smaller leaves are great in salads, larger ones can be used in soups and stews.
Cut each beetroot into 12 wedges and place on an oven tray.
Rub a few tablespoons of olive oil onto the wedges.
Season with salt, pepper and the dried basil and ensure that all the surfaces are coated in the oil and seasoning.
Throw a few sprigs of fresh rosemary in between the chips and place in the preheated oven.
After about 20 minutes the chips should begin to soften. Increase the oven temperature to 180 degrees for the last 20 minutes. This will crisp up the outside and finish roasting the beetroot wedges.
Check that they are cooked by pricking them with a fork, they should be crisp (but not burnt) on the outside and soft in the middle. If they are not, give them another 10 minutes. Keep and on eye on them to prevent burning though.
Serve with fresh thyme tips, lemon wedges and tzatziki.