Vegetarian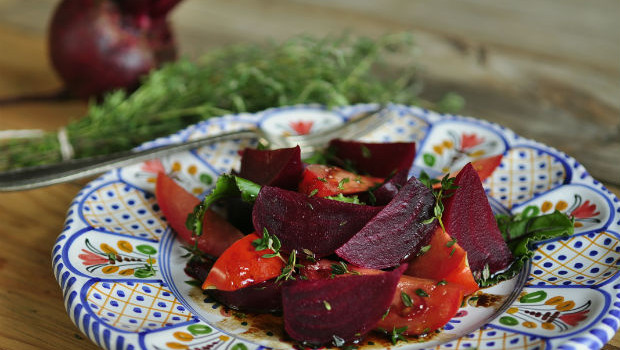 Published on May 18th, 2014 | by Gareth
2
Beetroot and tomato power salad
Game of Thrones may not seem like the most obvious source of ideas for lunch, but I'm dedicating this lunchtime salad to HBO's grumpy, calculating and arrogant Tywin Lannister. I'd been thinking about a beetroot, tomato combo for a while; but it was the latest episode of Game of Thrones (Tywin was enjoying tomatoes for his lunch) that spurred me into action. Better this TV series inspire me, than my favourite – The Vikings, which would have likely resulted in a dish featuring herrings and porridge.
As recipes go, it doesn't get much simpler but in terms of health properties this salad packs a punch. The combination of beetroot and tomatoes make this dish a powerful antioxidant. Don't discard the beetgreens (beetroot leaves), they contain more iron than spinach, are high in vitamin C, B6 and calcium. In fact they have more nutritional value than the beetroot itself. If you find them too earthy for salads, they are great sautéed with garlic and can be used in soups.
This salad also tastes great, earthy tones are offset by the sweetness of the dressing, aromatic freshness from the thyme and the slightly acidic tomato.
Prep time: 5 minutes
Cooking time: 30 minutes (for the beetroot)
Equipment: Saucepan, knife, chopping board, bowl to mix
Serves 2
Ingredients
3 medium sized beetroot
6 Roma tomatoes
Fresh thyme
Beetgreens (beetroot leaves)
Olive oil
Caramelised balsamic vinegar
Method
Wash the beetroot, cut the leaves about an inch from the root and set aside.
Submerge beetroot in a saucepan of water, bring to the boil and simmer for 30-40 minutes, until soft.
Allow the beetroot to cool in the water. When cooled, drain and peel the beetroot.
Roughly chop the tomatoes and beetroot and mix in a bowl.
Pick the medium and small leaves from the beetroot, wash and mix with the tomatoes.
Mix a 50/50 ratio of caramelised balsamic vinegar to olive oil in a small jar. Pop the lid on and shake until it emulsifies, then pour over the tomatoes and beetroot.
Remove the leaves and tips from about five sprigs of thyme and mix into the beetroot and tomatoes.
Add the beet leaves and serve.
Goat's cheese, feta or grilled haloumi compliment this salad very nicely.
And if you want something sweet check out this chilli, chocolate, beetroot brownie