Seafood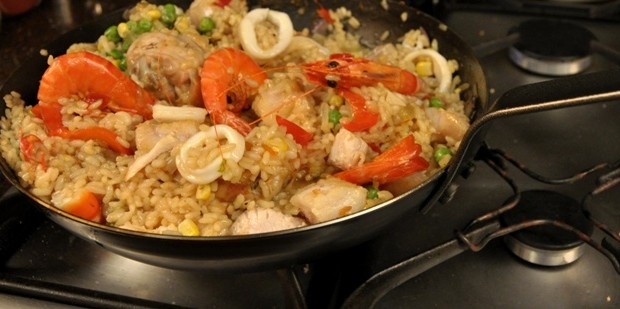 Published on April 17th, 2011 | by Gareth
4
Paella with seafood and chicken
I recently decided to try my hand at one of my favourite dishes,  paella. Being a favourite I'm not too sure why it has taken me so long to make my own. Probably part laziness and part because I have always been fortunate to live close to decent Spanish restaurants.
Paella originated in Valencia in Eastern Spain, the name refers to the large flat iron pan (la paella) that is used to cook the dish.  There are many varieties of paella served across Spain that incorporate everything from shell fish to rabbit.  When I did my research I found lots of different but not conflicting 'secrets' to good paella. Commons ones included:
Use the best quality stock you can find, ideally homemade.
Cook on a wood fire.
Use a paella pan.
Use short grain rice.
Drink sangria or rioja whilst cooking.
I live in an apartment block and an open wood fire just isn't conducive to the sprinklers and renewing my tenancy contract; so I skipped that one.  I am in between paella pans so opted for a sturdy steel French frying pan, I also made the last point up but highly recommend. I did however use good stock and short grain rice. I mix and matched with the ingredients taking inspiration from traditional recipes, Rick Stein and Frank Comorra, basically it is for paella de mariscos (seafood paella). The great thing about paella is you can add pretty much what you want to it, vegetables, mussels, clams, pork, beans (not baked beans though).
I also found a Posh Nosh episode on paella for your entertainment: Posh Nosh on paella
Ingredients
1 Ltr chicken stock
300ml dry white wine
500 gm Ling fillet cut into large cubes or slice (or any fish that is in it really doesn't matter)
2 fresh squid tubes, cleaned and sliced
12 cooked prawns
1 small chicken breast
4 Chicken drum sticks
1 medium onion, finely chopped
1 small leek, washed and finely sliced
2 bay leaves
5 cloves of garlic
1 red pepper, deseeded and roughly chopped
Olive oil
Generous pinch of saffron
400g aboria, Valencia or short grain rice.
Fresh parsley, salt and pepper
Method
Grill the chicken drumsticks.
Pour the stock into a saucepan, add a few heads from the prawns, cover and put on a high heat for five minutes to reduce. Once reduced strain the stock to remove the prawn heads and return to the hot pan to keep it warm.
Using a paella pan or frying pan heat a good lug of olive oil and add the fish and lightly brown for 2 minutes then turn over for another minute. Remove the fish from the pan and set aside.
Add the squid rings and cook for 2 minutes, set aside with the fish.
Chop the chicken breast and fry in the pan until golden. Once cooked set aside.
Add a little extra olive oil to the pan over a low heat. Then add the onion leek and red pepper. Cook until the pepper has softened and the onion has browned.
Add the pinch of saffron and the bay leaves to the warm stock.
Put the rice in the pan with the veg, stir constantly to prevent burning or sticking make sure the rice gets coated with the oil.
Now add the stock and saffron to the rice, bring to the boil. Cover and lower the heat to simmer for 10-15 minutes.
Uncover and add the prawns, fish, squid and the chicken. Cook over a low heat and stir occasionally. I also added frozen peas at this point as they were going spare.
Season and add the parsley leaves, chopped.
Serve together hot.