Reviews Published on May 5th, 2010 | by Gareth
0
Wok Station – Thai restaurant review
Wok Station Thai restaurant in Pyrmont, Sydney
Occupying the corner building of a row of 19th century terrace houses in Pyrmont is Wok Station. It is a pretty unassuming from the outside and I have often walked past without even realising it was a Thai restaurant – talk about dopey.
The interior is retro design greets Asia in a friendly laid back way. It's roomy and comfortable, attracting a wide cross section of dinners; from corporate professionals to hemp undie wearing alternatives (the ones that like to wear colourful strips of rag in their dreadlocks).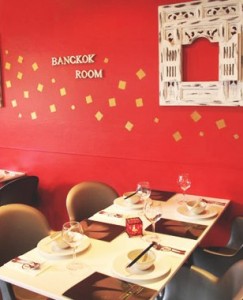 The menu is presents a daunting array of options; 80 Thai and Malay dishes in all (including salads and appetisers). The quirky personal descriptions of each dish mixed in with a measure of 'Tinglish' and the odd typo are sure to bring a smile to the face.
We opt for satay chicken, autumn rolls and spring rolls to start, followed by a Malay Penang curry Thai red curry and Tasman chicken and oyster sauce stir fry. Truth be known I could have picked several other dishes that sounded equally mouth watering such as Prawn star with banana chilli and the Siam Salad, but back to what we ordered. The chicken satay was well presented on a vibrant fresh garnish. The sauce was excellent and the grill iron stripes added a nice contrast of flavour and colour. I was sceptical about the spring rolls– too many experiences of greasy soggy rolls filled unidentifiable sludge! But I was pleasantly surprised with Wok Stations spring rolls and the autumn rolls (with a bbq duck filling). Both were crisp, not at all greasy and you could really enjoy the texture and flavours of the individual filling ingredients. Lightly spicy and very good!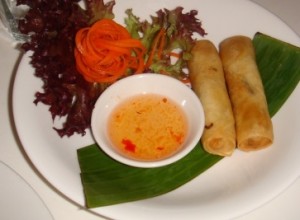 The first thing that I noticed about the mains (aside from the big servings) was the wealth of fresh ingredients that offered an explosion of colour; bright greens, intense chilli reds contrasted by the emulsion white plates. The Penang curry packs a punch so if you're not a spice fiend avoid it. I happen to enjoy fiery food so loved every mouthful. What I really liked was the generous amount of fresh and unusual ingredients such as whole fresh peppercorn stems and round cucumbers – also called lemon cucumbers or dosakai.
The red curry was one of the best I have ever tried, a nice balance between sweetly spicy and fragrant the bamboo shoot complemented the texture very well.
The chicken and oyster sauce stir fry was packed with flavour. There was one problem though, the vegetables included shredded red chillies and the person who ordered them doesn't like spicy food – which they made clear when ordering. Yeah I know what you're probably thinking "Why would someone who doesn't like spicy food go Thai – but that's another story. The point being is that if you ask for something that isn't spicy, you don't expect several whole chillies in your meal. We informed the waitress of the problem. They didn't think the meal was spicy so long as you did not eat the chilli??? They apologized and didn't charge for dish. All in all
I was impressed sufficiently to say it is the best Thai restaurant and take away in Pyrmont. The ingredients were fresh, the meals were tasty and the large portions offered good value for money just make sure everyone likes SPICY Thai food. Plus they are BYO which is grand!
Wok Station – 2/135 Harris St, Pyrmont, Sydney,  9518 8188 www.wokstation.com.au