Reviews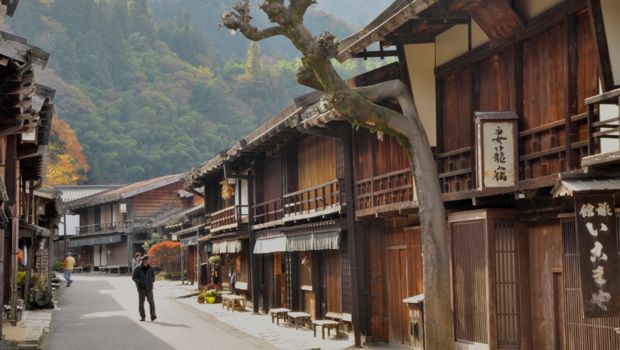 Published on December 9th, 2012 | by Gareth
7
Timelords in Tsumago, Japan
Have you ever wanted a time machine? I have, but not to correct my mistakes (they are part of life's education). I am talking about using a time machine to travel back to another decade or century. This time last year I got to do exactly that; high in the Kiso Valley of Japan's mainland. The Kiso Valley is South West of Tokyo in central Honshu. It's a beautiful mountainous region of Japan and a magnet for hikers seeking a little solace. Taking a Shinkensen (bullet train), then a shiny green train followed by small blue bus  – all of which were on time; we reached Magome, a restored post town. Magome is very picturesque and has a timeless feel to it; aside from the small coach load of Japanese tourists equipped with more camera gear than David Attenborough.  The two pilgrims in traditional dress complete with wakizashi short sword walking down the street were the cherry on the top.
Lovely though Magome is, it wasn't our destination we dumped a few bits of luggage at the baggage forwarding service and I grabbed some hot oyaki. These are buckwheat dumplings filled with regional vege's and are a specialty of the Nagano region. Then it was time to hit the trail, part of the Nakasendo (an old trail connecting Kyoto with Tokyo). The path is relatively easy and takes us through countryside, sleepy farms a waterfall and forest. We'd been warned about bears in the forest, seasoned local hikers wore bells on their packs and there were large bells to ring along the trail every few kilometers. Nina was nervous but I figured if the bear was frightened of a wee bell then it couldn't be that fierce so I could take him in a scrap.  Besides I was hoping to get a photo of a bear in the wild.
Following a few hours hike and a brief green tea stop with lovely old chap at a wood cabin in the middle of the forest (note wood not gingerbread!) we arrive in Tsumago, absent of any bear encounters.  Tsumago is an old post town in the Nagano prefecture. Like Magome it has been preserved, motor vehicles are prohibited during the day and all cables are underground to ensure the authenticity of this living, working museum. All of the buildings are traditional dark wood construction. There are licks of bright orange and yellow from the strings of gourds and persimmons that are hung to dry outside each house. The air is still and it feels like we have walked through a time portal transporting us to the Edo period in the early 1800's. No samurai though.
We stayed in a ryokan a traditional guesthouse, which means kipping on tatami mat floors. Another new experience is that bathing in a ryokan is communal, no time to be coy but it is quite discreet. Shared or not the soothing water in the cedar wood plunge bath was welcome after the hike and the house yukata's (type of kimono) adds to the feeling of relaxation and freedom.
Post a good soak it was time for dinner, which presented me with a challenge; traditional means no chairs just kneeling on the floor with a low table. The idea is to do this with grace, poise and in comfort, so glad I remembered to wear something under the yukata otherwise there could have been a few embarrassing moments. I conclude that looking serene and kneeling like this cannot be done. I offset the searing cramp in my legs with an amazing spread of an authentic home cooked Japanese meal which is another thing that ryokan's are renowned for.
There wasn't a menu you are just brought a tray of great looking simple food. It was neatly presented with each component of the meal on a separate plate or bowl. A little interaction with the food is required for the best result, mixing or dipping one dish with another. Going top left in a clockwise direction: Enoki mushrooms in a creamy sauce, this was kept hot in a ceramic burner. The host wouldn't let us eat until it was ready, but ten minutes into the meal she advised us it was good to go and certainly worth the wait, silky smooth and delicately flavoured. I was left wanting more.
The next dish was a marinated whole cooked baby rainbow trout. The host's mother (who was about 100 years old) told me that the Japanese eat the head whole, not to be outdone I wolf down the head. It was okay but I won't be doing it again, the bone part was a tad off putting. The rest of the fish was good though.
The lotus root looked interesting and proved deliciously crunchy. The tempura vegetables were sensational, light, crunchy and not at all oily.  I wasn't sure if the beef sashimi was Kobe or Wagyu, either way it was nice with beautiful marbling that made each mouthful very rich.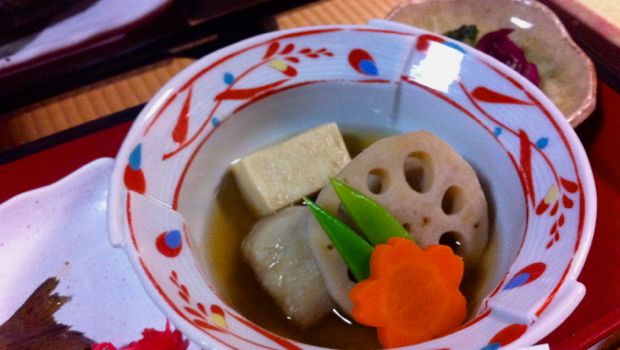 Next was crickets marinated and fried (I think). These weren't for Nina, which meant I got hers – result! I quite enjoyed them, very sweet.
The cold soba noodle soup with shredded cabbage and carrot was Nina's favourite and the roast duck was pretty tasty.
In short it was all very good. Sleeping on the futon mattress on the tatami mat floor was surprisingly comfortable. And the breakfast the next day was exceptionally good.  Aside from wondering about the postcard village there is a couple of small museums and the ruins of a castle (mainly rubble now), enough to amuse you for half a day.
Tsumago and Magome are stark contrasts to the modern futuristic Japan of Tokyo. The people are still friendly and welcoming but they live in a yesteryear world that's not driven by gadgets or addicted to the black LED screen. It's peaceful, wholesome and relaxing, I can see why it is popular with the Japanese. I loved our two-day excursion, it was brilliant fun and full of lots of new experiences. Although I didn't get a ride in the tardis like the other time lords, it certainly felt like we had experienced a glimpse of the past. I can't wait to do the full 40km route and go back in time a few hundred years again.
Other food experiences in Japan.
Minshuku Daikichi Ryokan
www17.plala.or.jp/daikiti (in Japanese)
onyado.daikiti@cpost.plala.or.jp
Tel +81-264-57-2595
Fax +81-264-57-2203