Reviews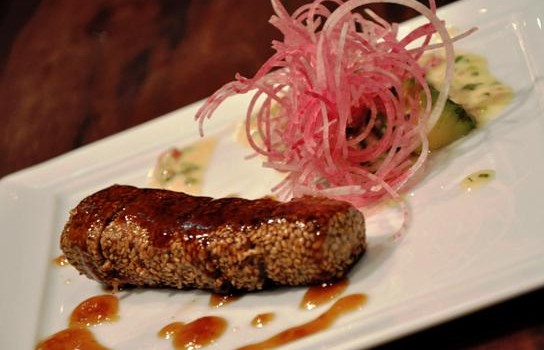 Published on November 19th, 2011 | by Gareth
6
Michelin Star Teppanyaki
As you may have begun to glean there is some good eating to be had in the land of the rising sun. In fact Tokyo has become something of a global food Mecca, especially since Michelin released their famous Red Guides for Japan.
For those unfamiliar with the Michelin Guides, they were started in France in 1900. Initially a guide to all things relating to touring France in a motor car, they have since become the hallmark of fine dinning in 23 countries (mainly European) with guides produced for major cities. Restaurants are recognized by a star system, 3 stars being the highest. The grading system for Michelin stars is a secret but I was able to find out the following: 1 Michelin Star is a good restaurant, 2 stars are worth a detour and a 3 starred restaurant is in a class of its own warranting a 'special trip'.
Tokyo now holds more Michelin stars than any other city in the world. They have 14 three star restaurants, 52 with two stars and a whopping 174 restaurants achieving one star. To put this into context Paris has 10 three star restaurants, New York has seven and London and San Francisco both have 2 each. But then Tokyo does have over 160,000 restaurants to Paris's 40,000, which is a lot of tables!
Now because Michelin don't produce guides for Australia, it's not often that I get the opportunity to dine in a Michelin Star rated restaurant. So when we were in Tokyo we thought we would do just that. Fortunately we knew someone of high standing which influenced getting a table reservation at short notice (i.e. less than 2 weeks notice). As we were looking for a Japanese restaurant offering regional specialities we selected Keyakizaka Teppanyaki at the Hyatt Grand in Roppongi Hills. This was to be a treat worthy of brushing my hair (think Bart Simpson going to Church) and donning my plush new jacket.
Every time I have been to a 'posh' restaurant I have noticed that peoples tone and volume reduces to a soft polite almost whisper, a bit like an art gallery. Keyakizaka was no different however it didn't feel conservatively stiff, it made use of soft lighting, wood and high ceilings to give an airy, warm and relaxed atmosphere.
Teppanyaki is food is cooked on a hot plate, (from Teppan which means iron plate in Japanese and Yaki which means broiled). The teppan table runs almost the length of the restaurant and down the sides (like a right angled C), customers one side chefs the other. Fresh regional and local produce was on display including seasonal vegetables in baskets, pink rock salt boulders and aged beef in temperature controlled glass cupboards.
As with all eateries in Japan 'moist towelettes' are provided on arrival for wiping hands and face…but never the neck as that is deemed crass. Keyakizaka provide traditional patterned hot flannels infused with lemon grass oil to refresh before your dining experience.
The menu was offered a wonderful blend of Japanese and European ingredients brought together by Teppanyaki style cooking. I am still kicking myself for not having the French goose foie gras, caramelised mango, balsamic sauce, but I need to leave something for next time. Our waitress was eager to guide us to the set menu (a nice up sell for them and far easier to produce from a kitchen logistics aspect). Wanting more freedom we opted to go a la carte and share.
Once ordered we had cotton bibs tied around our necks by our waitress and watched the culinary conjurer work the teppan with grace and skill.
Sautéed scallop, garlic butter sauce, these were the biggest, most salty sweet flavoursome scallops I have ever tasted. While they danced on the hot plate, a wee saucepan heated the accompanying parsley butter.
Sautéed herb crusted scallop and langoustine, grecque. The grecque being a simple salad such as red pepper with a smudge of a wonderful colourful fish based sauce that I still cannot identify.
Eringi mushrooms, garlic, Italian parsley. Eringi mushrooms is the largest type of oyster mushroom, thick and juicy, the rich buttery, emerald green Italian parsley made for a fantastic colour contrast. The portion size was very generous, enough for two.
Steamed John Dory, Kyushu Island creamed mushroom sauce. This incorporates one of my favourite ugly fish with a beautiful sauce that was blow torch finished. Whilst mushrooms are not an obvious partner for such a delicate fish it didn't overpower the flavour.
Premium F1 Japanese beef. Like the scallops, this was a great example of a simple dish skilfully cooked that allowed an excellent quality ingredient stand out. Rich, medium rare, red meat goodness to the max. I still don't know what the F stands for though.
Pan-fried gurnard, Kyushu Island potato and shell fish sauce. This was okay but perhaps a little underwhelming given the other dishes.
Stir-fried pork loin with seasonal vegetables. Like so many of the dishes this was simple food, cooked to perfection and served but not drenched in a delicious sauce.
Mixed grilled veg, this may sound boring but the sauce was to die for. Basically it was sweet soy sauce, sesame oil or sauce mixed in with a little Japanese mayonnaise to thicken. Stupidly simple and very Moorish!
Sautéed tuna with sesame and guacamole sauce, looked impressive and tasted even better. The succulent, rich taste of the tuna was so good and the sesame added a nutty depth. This was to quote an overused cliché, literally melt in the mouth.
And to finish was garlic fried rice, vegetable with Japanese beef soup and fried rice, mushroom and fresh truffle. This used fresh fried garlic to the point of browning but not bitter mixed in with rice, finely chopped veg with a ladle of clear beef broth served over the rice. So good!
So there you have it, my first Michelin Star experience. It wasn't cheap at about $130 pp, but I thought given the superb quality of the food, the skilful chefs and the location it was reasonably priced and a hugely enjoyable meal. It's not your usual teppanyaki as it uses a lot of European ingredients like fois gras, truffles, and balsamic but I loved it. The only problem was that I was too full to have a dessert.
Question, who would like to see a Michelin Guide for Sydney and Melbourne?