Reviews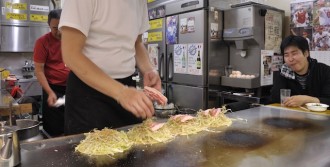 Published on November 9th, 2011 | by Gareth
Okonomiyake Kansai, Japan
Traveling around Japan is a fantastic food experience. The selection of food and the combinations can often challenge the average Western palette and what we deem as 'normal food'. Fish, rice and pickles for breakfast, marinated crickets and dried fish as a snack or garnish and sweet bean paste for dessert are just a few examples of unusual combinations.  It's a real food adventure and I love it. Where possible we have sought out traditional regional Japanese specialties, one of these is okonomiake, a type of pancake. Okonomiyake is a famous dish from Osaka, part of the Kansai region (Central and Western Honshu). Loosely translated it means 'as you like it' or 'whatever you want'.  Essentially it is a mix of egg, batter and your choice of ingredients, cooked on a hotplate. The origins of the dish date back to a Buddhist priests the 1700s.
Okonomiyake bars are often found clustered together; Okonomimura Genzo in Hiroshima is located in a building with 3 floors of these bars, each floor housing about four or five Okonomiyake bars.
Generally, they all contain noodles, bean sprouts, bacon, cabbage, and onion. You can 'customise' with a choice of udon or soba noodles, and additional fillings, such as prawns, fish, beef, vegetables etc. Each layer of ingredients are seasoned with salt, pepper and a secret blend of herds and spices. Its not haute cuisine but it definitely tastes good and is surprisingly filling, perfect after a day full of site seeing.
I think the sequence of piccies will give you a better idea of what this dish is and how its made:
Okonomiyaki Sumitomo
6 13-18 Higashimikuni, Yodogawaku, Osaka