Reviews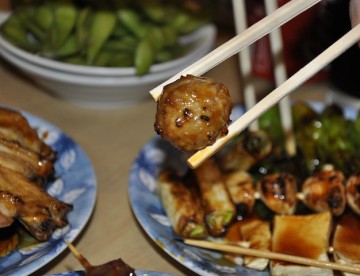 Published on October 30th, 2011 | by Gareth
Tokyo Yakitori bar food
For many years Japan has been a source of fascination for me. I think the seeds of attraction were planted very early with Mr Miyagi (Karate Kid), bonsai trees and Akira Kurosawa's cult film Seven Samurai. Since then my interest has grown around the gastronomic art that is sushi, Japanese culture and the ceremony surrounding eating and drinking.
So when I got the opportunity to visit the land of the rising sun, I leapt at it like a mighty morphin power ranger springing into action to fight evil.
Day one started today in Tokyo in the Shinjuku district at a Yakitori bar. In the middle of a forest of futuristic buildings including the Cocoon and the city hall, there are a few narrow streets that don't look change has graced them since the 1950's. We made a bee line for the street that was lined with small bars offering Yakitori style food. If you don't know, yakitori is basically food on skewers cooked on a charcoal or gas grill.
Our host's English was nearly as limited as our Japanese. So about a dozen single words, consequently we weren't 100% sure what we were ordering. Nice surprises to follow.
Edamame were served as finger food before a mini feast of treats on sticks arrived.
The mini logs of leeks were a hit. The chicken meat balls were tender and smooth. The beef was equally good.
The smoked garlic was sweet, with a subtle garlic bite. However there was some meat, which I think was pork and it was tougher than granddads hobnail boots. Safe to say we didn't finish that stick.
All of these morsels were coated and dressed in a wonderful sweet, light barbeque sauce.
It wasn't the cheapest but the experience was fantastic. I love it here.