Reviews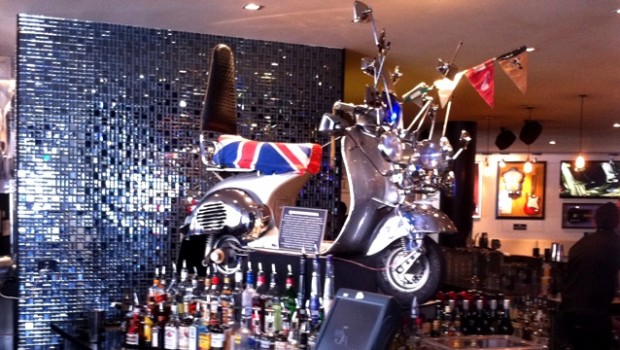 Published on October 13th, 2011 | by Gareth
1
Hard Rock cafe Sydney – review
Firstly, apologies for the digital silence, I have been struck down with man flu and haven't really
been interested in food (other than ice lollies and sorbet) much less writing about it.
Now don't judge me for eating at a Hard Rock Café. Gourmet it's not admittedly, but it is new and they have been busy since opening their doors three months ago.
Feeling washed out from being a sickly child I found myself standing at the level 1 entry desk for Hard Rock Café in Sydney. Having never eaten or even visited a Hard Rock Café (even in the 80's), I had American diner preconceptions. However being a fan of indie rock, soul and punk music I got attracted like a moth to a street light on a dark night. I confess to being impressed by the calibre of the rock memorabilia adorning every space. An original Lambretta scooter from Quadrophenia, one of John Entwhistle's bass guitars and Paul Weller's mod suit and shoes were of special interest.
The chap on the desk greeted us in a friendly manner and despite being lunch time was able to accommodate our shaded balcony space request. Remember I am English and so spontaneously combust in the sun.
Once seated a new member of staff bounced up introducing himself as our waiter. Appetites not being their usual self we opt for a couple of burgers; an S.O.B and a Mushroom & Swiss Cheese accompanied by vanilla
malt shakes.
The S.O.B Burger was like all their burgers cooked 'medium – well' unless you specify otherwise. Never heard of this term before, must be a crazy Emrican notion. The burger was Australian Angus beef and allegedly basted with a spicy chipotle sauce, if it was it didn't scream spicy chipotle but wasn't unpleasant. The ratatouille style relish was perhaps the highlight of the dish and the fries were pretty average.
The malt shake was excellent, very enjoyable.
The mushroom and Swiss burger was the same type of beef burger with sautéed mushrooms and Swiss cheese. The mushrooms good but otherwise the burger was a little bland.
The fact that these burgers took over 30 minutes to arrive confirmed that it wasn't supposed to be fast food. The $24 price tag per burger would suggest it should be gourmet in style, having tasted the produce I would disagree that this was a super burger of any sort. So clearly it comes down to the location…or does it? Fish and chips at Blue Fish in Darling Harbour are $20 and they are pretty good.
I think that you are paying for the venue itself, memorabilia aside the décor is akin to what I would expect in a night club, a lot had been spent fixtures and tiles. The cocktail list was quite impressive though.
The menu isn't all bad. It was extensive featuring fajita's and some tasty sounding salads, it catered well for families plus it had it's own shop so you could collect the obligatory Hard Rock T (worn by teenage girls, dads trying to be cool and anyone with a time portal to 1985). Then there is the experience, it's very American in its service style (in that the waiter slots themself into the type of rapport you'd expect from your best friend).
Whilst it wasn't my kind of place as it was too contrived to be really rock n roll, I can see the appeal, especially for a family on holiday…and like I said the scooter and guitars are pretty cool. As to the food, well I think I need sample more of the menu to trul judge, trouble is I'm not sure I want to.
I would like to leave you with a question, at what point is fast food no longer fast food?