Reviews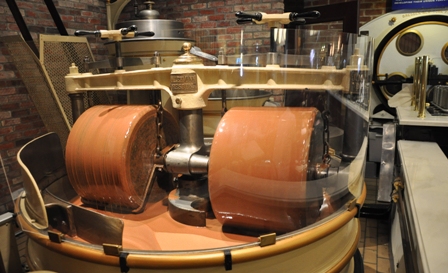 Published on April 27th, 2012 | by Gareth
2
Ghirardelli Chocolate
I have recently returned from the US. It was my first trip and certainly challenged many of my opinions of America, all for the better. It turns out that they can make beer, especially in San Francisco. Baseball is great fun to watch, go the SF Giants! And they can make pretty good chocolate. Whilst enjoying, the sights, flavours and sounds of San Francisco we paid a visit to Ghirardelli's. This is a chocolate institution in California.
Domingo Ghirardelli was an Italian confectioner who after working in the South American chocolate trade emigrated to North America in 1849 to 'strike it lucky' in the California gold rush. Fortunately he wasn't very prosperous at the gold mining game and turned to supplying miners with confectionary. In 1852 he formed a confectionary company in San Francisco. Since then Ghirardelli chocolate has become a national brand, Ghirardelli Square (the home of their chocolate from the late 1800s until the 60's) has become a recognised landmark of San Francisco and the company has been acquired by Swiss coco behemoth Lindt and Sprungli – smart move given Ghirardelli's popularity.
Ghirardelli's have over 10 ice cream and chocolate stores across the states. All of the stores stock a range of Ghirardelli's chocolate. On the way to Ghirardelli Square (to buy edible souvenirs for the 'folks back home') we stopped in at their 'on the go' ice cream and chocolate shop on Beach St for a drink. Sight seeing is after all very hard work and we needed liquid chocolate fortification – I couldn't find a pub. Plus the café has a nice sea view.
When you enter, the comforting smell of cocoa immediately hits you like large soft velvety cushion in the face, before we recover from the lustrous aroma hit we are offered free samples of milk chocolate caramel squares. So splendid I temporarily resign my quest for a pint and we order hot chocolate to go.
The decadent drinking chocolate lived up to its name. It almost had the consistency of hot mousse and proved so rich it took 3 people to finish it. Essentially it's frothed melted chocolate and very good too.
The sea salt caramel cocoa was by far the most interesting. The saltiness intensified the already wonderful chocolate flavour.
I had for the latest edition to the menu, the Lombard St Hot Cocoa. Basically its DIY hot chocolate – hot frothed milk served with four chocolate truffle squares. It's a bit of fun as you can adjust the 'chocolatyness' by adding more squares of chocolate. Only one way to go though, all of it in the mix!
Fuelled and ready to go, we wandered to Ghirardelli Square (about 5 minutes walk away) where Nina made a modest investment in their tantalising product range.
If you are a chocoholic then this place is your West Coast Mecca. Make a pilgrimage soon.