Desserts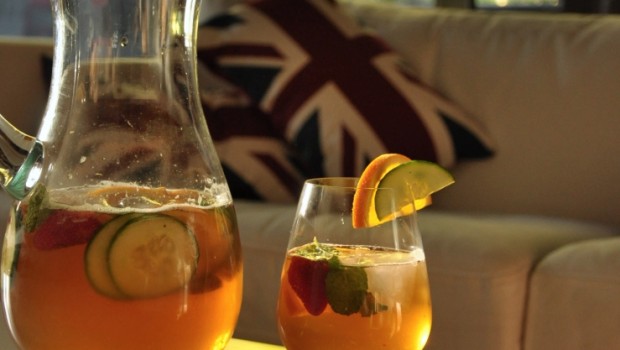 Published on February 1st, 2011 | by Gareth
6
My perfect Pimms
There a few greater English summer time drinks than Pimms No. 1 Cup with fruit and lemonade.  England and summer may seem like a contradiction in terms, especially when compared to the fierce Aussie baking season. However I have fond memories of working in a good old fashioned English country pub back home years ago where we used to serve big jugs of icy Pimms in the beer gardens during the hazy days of summer (which usually ran from July 14th-July 31st).  For me this is a quintessentially English, refreshing and dare I say sophisticated drink.  Like Port is to Stilton, Pimms is the perfect partner to sweet, plump, ripe and juicy strawberries and watching tennis. Surprised? Well you didn't think England's love affair with alcohol was all larger and skinheads did you?
A few Pimms facts:
Pimms was first created in England by James Pimm back in 1823 as a gin based health tonic containing quinine and herbs.
The No 1 Cup refers to how it used to be sold, in a small cup or tankard.
25% alcohol so more punch than wine but kinder than spirits.
There are other cups, No. 3 for example is brandy based as opposed to gin based.
So now you know all about Pimms and the glorious English summer, here is my favourite way to serve Pimms:
Ingredients
1  1/2 cups  (about 10+ shots Pimms No.1 Cup)
500 -700ml lemonade
6 fresh strawberries, washed and quartered
8 slices cucumber
½ orange, sliced or cut into 4-6 wedges
4 sprigs of mint
Lots of ice
Method
Put the lemonade into the jug first and wait for the froth from the bubbles to settle a little, add the Pimms (if you are unsure of the measurements use the Pimms recommended ratio of 2-3 parts lemonade to 1 part Pimms). I tend to make it by taste so the measures will vary for others.
Add the fruit, crushing a few of the strawberry quarters.
Cut the top few centimetres off the mint sprigs, add them along with the leaves from the remaining part of the mint sprigs.
Give it a good stir and add the ice.
Leave to chill for a few minutes and serve, preferably on the lawn.