Desserts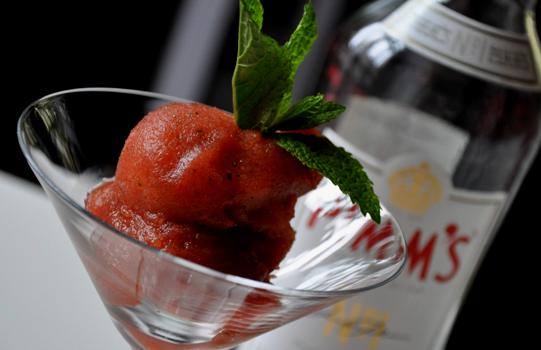 Published on September 24th, 2011 | by Gareth
4
Pimms Sorbet
With the weather seriously picking up in Sydney (well except today) and a friend's Anglo themed barbeque to go to, it was time for another food experiment.  A sweet treat was requested as our contribution to the barby and having not used the ice cream machine for a few weeks it seemed destiny that I have a crack at Pimms sorbet.
Ever since Nina bought me the new toy I have wanted to capture everything that I enjoy about a glass of Pimms; refreshing cucumber and mint, summer sweetness of strawberry, uplifting orange and lemon and the all important fruity alcoholic punch of Pimms No. 1 Cup. Tennis anyone? On second thoughts skip the tennis, I am hopeless with a racquet and the rugby is on anyway.
The following measurements were really a bit of guess work and lots of tasting to get the balance right. Pimms sorbet is definitely my favourite out of all of the scooped icy enemies of weight watchers I have made. Well all except perhaps the double dark chocolate ice cream (more of that next time).
Ingredients
240g fresh strawberries
180g cucumber
12 fresh mint leaves
Juice of 1 orange wedge (1/8)
Juice of ¼ of a lemon
5 standard single measures of Pimms no.1 cup
220g sugar
240ml water
Method
Make the sugar syrup by mixing the water and the sugar in a small pan over a medium heat until all the sugar has dissolved.
Set the sugar syrup aside to cool.
Wash and hull the strawberries and put them in a blender or processor together with the cucumber, mint lemon and orange juice and puree.
Strain the puree over a bowl through a sieve to remove the seeds; this will help ensure a smooth sorbet.
Mix the strained juice with the sugar syrup and Pimms.
If you have an ice cream maker follow the manufacturers instructions from this point. If you don't have an ice cream maker freeze the mix in sealed container for 1 hour.
After 1 hour remove from the freezer and whisk to break up the ice crystals then return to the freezer. Repeat this several times until
the sorbet is smooth.
Freeze for a further hour or until the sorbet is firm and frozen.
Serve with a few fresh strawberries and a sprig of fresh mint.