Desserts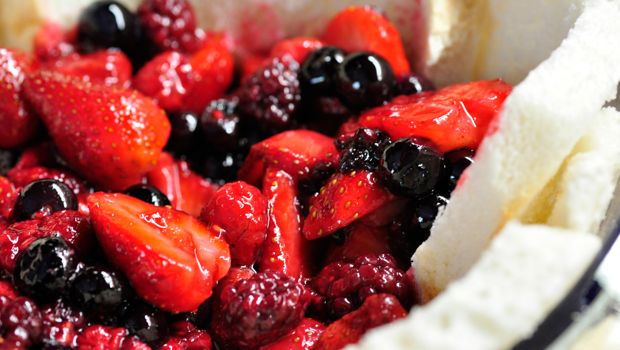 Published on September 9th, 2012 | by Gareth
4
Summer pudding with Pimms
Just recently we seem to be either hosting or going to quite a few dinners at friends. These aren't quite as formal as a 'dinner party'. Granted we do eat dinner and 'party', if having alcoholic drinks, talking rubbish and sharing lots of laughter counts as 'partying'. However for some reason in order to be considered a dinner party in my mind, there needs to be at least 3 courses and everyone dresses in smart party frocks, slacks with jumpers slung over their shoulders. Oh and if the girls with long hair should put up. Too specific?
The dinners we have are pretty casual affairs and guests always bring a course of side dish. The collaborative approach is a perfect arrangement if you are too busy to spend an afternoon creating a 3-course masterpiece.
My job yesterday was to provide after's being such a glorious day I wanted something quick, like no baking quick. Enter summer pudding, a traditional English dessert dating back to the nineteenth century. You need to make it eight plus hours in advance but it takes minutes to prep.
In it's original form the pudding has only 3 ingredients but I have added a few extras. Generally you avoid using strawberries in a summer pudding because they go too soft. But Aussie strawberries taste so good right now and they produce such a vivid red juice when they go mushy.
Preparation time: 10 minutes plus 8 hours/overnight to chill.
Serves 6
Ingredients
750g mixed soft fruits, dark berries like blackberries, blue berries, blackcurrants etc. I used a combination of fresh strawberries and frozen berries.
160g caster sugar
8 slices white bread – crusts removed. Day old bread is best.
1 tsp cinnamon
3 tblsp Pimms or framboise liqueur
Crème fraishe to serve
You will also need a large pudding basin (1ltr/2 pint size) I recommend one with steep sides (as opposed to the relatively shallow one I used). It's easier to turn out the pudding, plus it has more visual impact.
Method
Put the fruit, sugar and cinnamon in a large saucepan. Bring to the boil then reduce heat and simmer for 2-3 minutes. Turn the fruit over with a spoon to evenly coat in the fruit syrup. Be careful not to squash the fruit too much though you want the berries to hold their shape.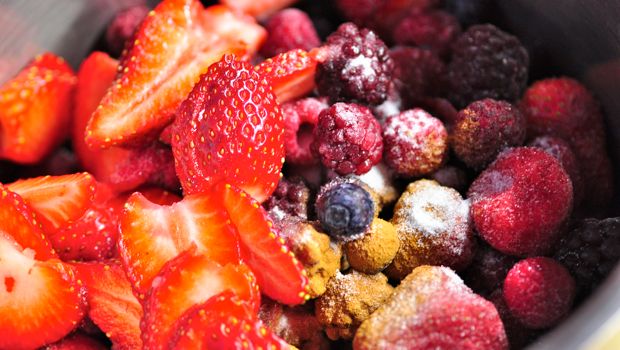 Add the Pimms to the fruit and set aside.
Line the pudding bowl with the bread. Overlap slightly but don't make the mistake I made and overlap too much as its harder for the juice to soak through two layers bread. Instead cut the slices to fit snuggly like a jigsaw.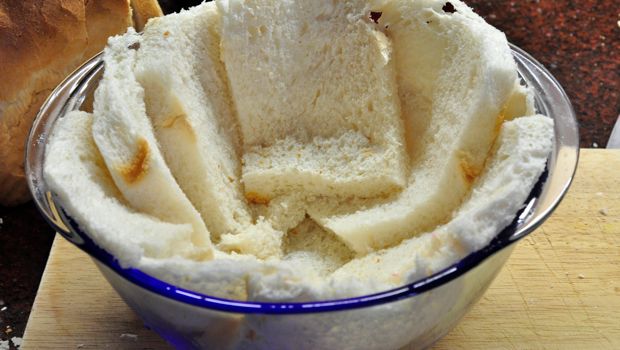 Spoon the fruit and most of the juice into the bread lined bowl.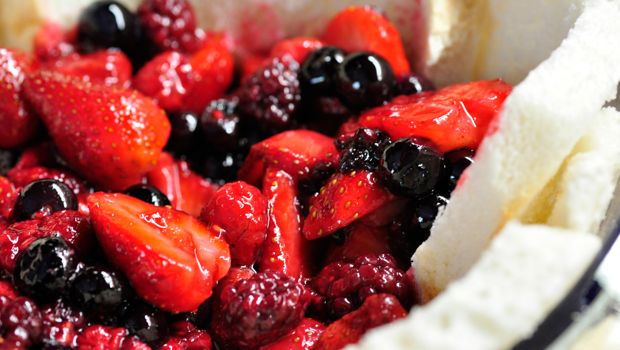 Make a bread lid then weigh it down with a saucer or small plate. I put a jar of jam on top for good measure.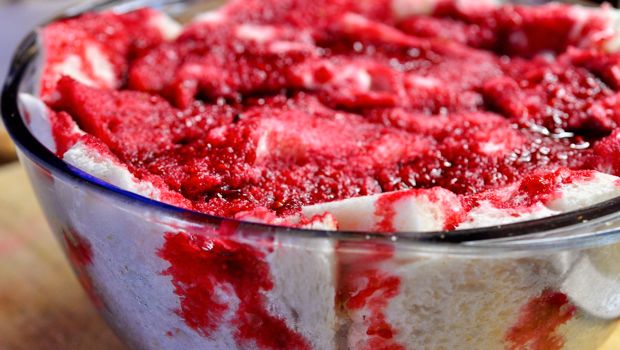 Pop in the fridge for at least eight hours, preferably overnight.
When ready turn the pudding out and pour the remaining juice over the parts that are still white.
Serve with a generous dollop of crème fraishe.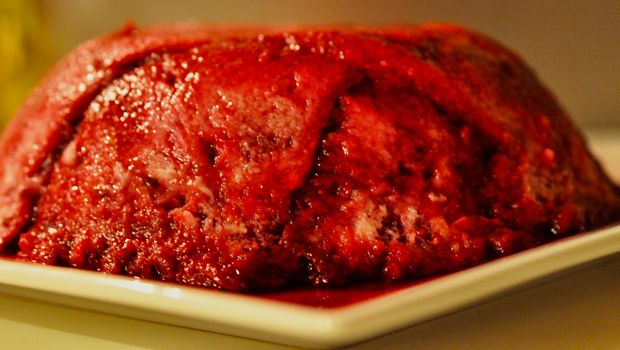 Soggy bread and fruit might sound unappetizing, but summer pudding packs a deliciously fruity explosion and looks impressive on a white plate. I like to think of it as posh bread and jam.