Desserts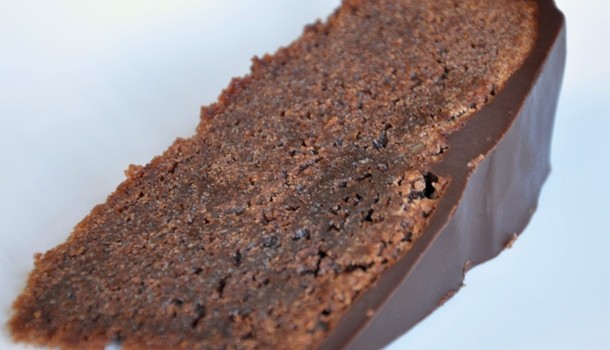 Published on May 9th, 2011 | by Gareth
15
Dark Chocolate Mud Cake
I have to admit that despite my love of old school English desserts and French pastries I generally prefer savoury dishes. However when I saw a post on a friend's facebook page claiming they had found a recipe for the best chocolate cake ever, my competitive streak was stirred into action, literally.
Now I realise the term 'best' is purely subjective, I think boring but classic ice cream flavours like strawberry, vanilla and chocolate are the best.  Nina on the other hand firmly believes peanut butter and chocolate or cookie dough is all that should be served in a waffle cone.  But I digress, back to the choccy cake! The recipe that I defend as a true master of cake is a chocolate laden beast with pointy teeth and red eyes of a cake. This recipe is for a double chocolate mud cake came from my mother-in-law.
Never before have I sampled a cake that is so rich and moist. Now I won't lie, the cake isn't as good as sex, but it's pretty close.  So last weekend I decided to make one in order to share the love, which is a big call for me as I don't usually bake cakes.
I have to warn you this is no ordinary chocolate cake and healthy it certainly isn't. It is so bad for you I have known people to let their belt out just from looking at it. The original recipe recommends serving only when a defibrillator or doctor are close by and never have a slice before going for a swim because it has the same effect as concrete budgy smugglers, yes that's right you will sink, instantly!
Warnings aside, anyone who is a serious fan of chocolate will find this like nectar but in cake form. So without further ado, here it is. I hope that you enjoy it and let me know how it compares to other cakes claiming the title of 'best'.
Preparation time: 20 minutes plus leave overnight.
Cooking time: 1hr 45m
Ingredients
200g dark Belgian chocolate (at least 70% cocoa solids)
250g butter (that's not a typo it is 250gms)
440g sugar
330mls water (see it's not all bad, water's healthy)
1 tbls dry instant coffee
110g standard flour
110g self raising flour
25g cocoa powder
3 eggs
Topping
150g dark chocolate
50g milk chocolate
150ml cream
Method
Preheat the oven to 150 degrees.
Cut the butter and chocolate into cubes.
Using a large heavy based saucepan, gently heat the sugar, butter, dark chocolate, water and instant coffee. Stir frequently and keep the heat low take care to not let it boil. This will take 5-10 minutes for all the ingredients to melt.
Grease a large cake tin (I used a 23cm diameter tin) and line with baking paper.
Sift the cocoa, standard and self raising flour together in a separate bowl.
Pour the melted chocolate mixture into a large mixing bowl.
Gradually stir in half the flour and cocoa mixture. Ensure it is well mixed in and there are no lumps.
Add the remaining dry ingredients, again stirring until there aren't any lumps.  You may need to push the mixture against the sides of the bowl with the back of the spoon.
Crack the eggs into a separate bowl and lightly beat them.
Add the eggs to the chocolate mixture and gently fold in until thoroughly mixed.
Pour the mixture into the prepared tin and bake in a slow oven for 1 hour 45 minutes.
Check the cake is cooked by skewering it, if the skewer comes out clean remove the cake from the oven.
Cover with tinfoil and leave in the tin in the oven to cool overnight.
To make the topping heat the cream in a Pyrex bowl in the microwave for 40-50 seconds. Basically you want it to be at boiling point. If you hate microwaves like my sis does, just use a saucepan.
Break the chocolate up and add to the cream. Mix with a whisk until glossy.
Allow to cool for a minute or two then the chocolate topping spread over the cake, (remove the foil first though).
Refrigerate to set the topping before serving.
The best part about this cake is it is better on the second day. The question is how long did you make it last?