Desserts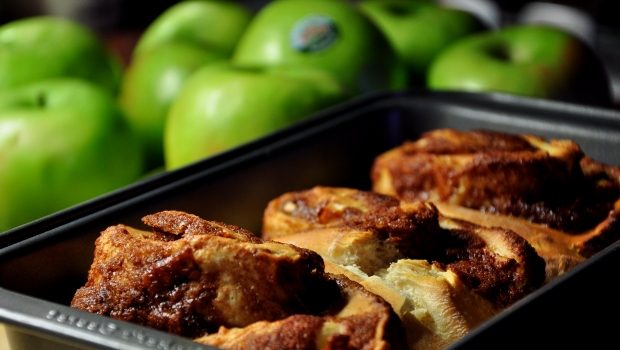 Published on June 24th, 2012 | by Gareth
13
Cinnamon and apple rolls
This weeks post is a little late. Sorry, but I got seconded to help on MasterChef. Actually I went sailing because it was such a nice day, azure blue skies, clear waters, radiant winter sunshine and a moderate breeze….how could I refuse?
Back to the food, earlier in the year I was fortunate enough to take a break in San Francisco, a truly spectacular city. No food lovers trip to San Fran could really be complete without a visit north to the Napa Valley. On the way to our destination Nina, myself and our travel pals, Drew and Donna, made a detour to Sonama.  Here Drew and I did a cooking class at Ramekins Culinary school while the girls went to a spa nearby for an afternoon of massage and relaxation. It wasn't gourmet food that we were learning to make and I didn't learn any new cooking techniques or skills but we had a tremendous afternoon. I wouldn't say that our tutors were seasoned masters of the commercial kitchen, however they were warm, friendly and passionate about what they did which counts for a lot.  The setting was lovely, the sort of place that would be nice for a 'good wedding'.
We made an Easter Brunch and I want to share with you the recipe (albeit a little modified by me) for my favourite dish of the class, cinnamon rolls. These are delicious served as a dessert with custard, with a light drizzle of icing or just fresh out of the oven. There is the added bonus that they make the house smell terrific, instantly making you feel peckish.
Makes 12 good sized rolls.
Preparation time: 20 minutes
Cooking time: 20 minutes
Ingredients
Dough
¾ cup milk
½ cup sugar
110g unsalted butter
sachet of dry yeast (7-10g)
3 eggs
1 cup of water
6 cups plain flour
½ tsp salt
Filling
110g butter
1 cup sugar
1 cup dark brown sugar
2 tblsps of cinnamon
1 tsp rum
½ apple cored and chopped
Method
Warm the milk, sugar and butter in a saucepan over a low heat until the butter is melted. Set aside to cool.
Put the water, eggs and yeast in a mixing bowl and stir.
Pour in the butter/sugar/milk mixture and stir.
Gradually add the flour and salt, mix together for four minutes until you have a smooth dough.  If you are lucky enough to have a large food mixer, use the dough attachment.  If not a wooden spoon and elbow grease will do.
Cover and set aside somewhere warm to rise for 20 minutes.
To make the filling mix the cinnamon, sugar and butter until creamy.
On a floured surface roll the dough out into a rectangle.
Spread the cinnamon butter icing filling over the dough going right to the edges. Sprinkle the cubed apple on top.
Roll into a log and cut 12 pieces. Place the rolls on baking parchment allow to rise for 10 minutes.
Bake at 180 degrees C for 15-20 minutes until golden brown.
Top with icing and a dusting of cinnamon (optional).