Desserts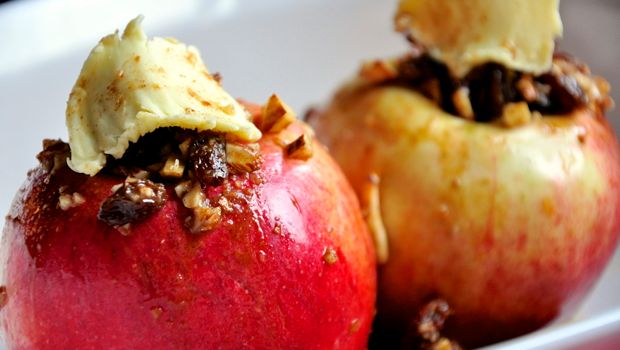 Published on April 22nd, 2013 | by Gareth
2
Baked Aussie apples with cinnamon, fruit & nuts
The weather in Sydney has finally turned after last weekends burst of warmth. But before I lament the passing of a season I remind myself I am a pome, which means I thrive on the chillier clime, frost and sideways rain.
The funny thing is like so many expats, before I ventured to this part of the world; I would watch programs about sun drenched Ozzie (back home we don't say Aussie) with envy. Now I am here, I welcome the approaching winter – talk about contrary. Perhaps it's in my genes to pine for poo weather and the frozen North. Possibly it's a touch of grass is greener on the other side. Personally I think it's more to with the fact that I can start making hearty soups, roasts with all the trimmings, stews and spicy Indian and Asian dishes.  Well, it's that and the fact that and I can start wearing my flat cap again.
Now, robust and comforting savouries are best finished with a befitting pud. A fluffy pav or lightweight fruit salad really won't cut it. Enter the baked apple, not as sticky or heavy as a fruit crumble but still no wimp either.
I've taken inspiration from Europe with these baked apples.  The original recipe is actually Greek but I decided to add French brandy, ground cloves and a generous serve of custard.
Preparation time: 10 minutes
Cooking time: 40 minutes
Ingredients
½ cup almonds – finely chopped
½ cup sultanas
50ml brandy
1 tblsp. clear honey
½ tsp. soft brown sugar
1 tsp. cinnamon
2 cloves – crushed into powder
3 tblsp. melted butter
3 large apples – cored
Method
Preheat the oven to 180degreesC
Put the sultanas, brandy and honey in a bowl to soak.
Chop the almonds.
Add the chopped almonds
Cinnamon, brown sugar and crushed clove to the bowl and mix together.
Core the apples, if possible don't go all the way through by stopping short of the bottom of the apple. This way the juice will stay inside the apple. If you have trouble getting the core out, use the handle of a teaspoon to scrape it out.
Fill the cavity in the apple with your fruit and nut mix, packing it in tight with your thumb or a spoon.
Transfer the apples to a oven proof bowl.
Pour the melted butter over the top of the apples and bake for 45 minutes.
Serve hot with custard, cream or crème freshe.
Whats you favourite winters day  dessert?