Desserts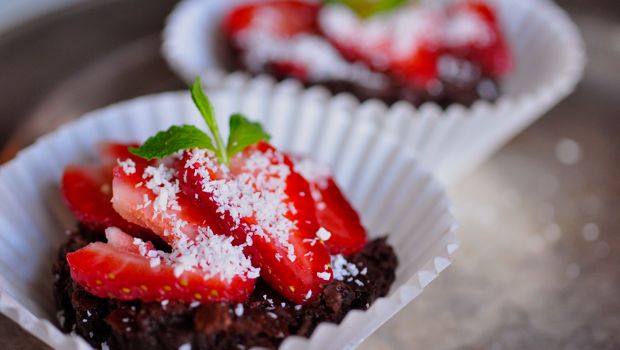 Published on September 23rd, 2012 | by Gareth
4
Chocolate Mousse Cup Cakes
Yesterday I volunteered to provide the dessert for Nina's girl's movie night. It was an opportunity to cook something different and upon delivery of sugary goodies to my wife I got the place to myself (though before being left alone I had to promise not to play with matches or have a raucous party).
As I have mentioned before I am not the most avid baker, generally I make a beeline towards savoury and usually robust 'blokey' food like pies, stews, bbq food…and ice cream.  Not this time, I willingly signed up to dessert duty and for someone else. Nina even put in a request for something from her new favourite cook book 'Indulgence' by Rowie Dillon.
For those of you unfamiliar with Rowie; she is the gluten free goddess. Often found selling her scrumptious wares at Pyrmont Growers market. You can also find her products in David Jones.
I have never intentionally tackled a gluten free recipe. In fact it is only recently I realized quite a few people suffer from gluten intolerance. Reading Rowie's book was educational. Gluten alternatives are not all linen wearing lentil loving hippy food I learned a lot about alternatives to flour, many of which pack more flavor and protein punch than the run of the mill flour, see what I did there funny huh? I am now looking forward to experimenting with a few gluten free staples like polenta and buckwheat flours in my cooking.
The cookbook has some top recipes and in the end I opted for something decadent; chocolate mousse cake, except I didn't have a suitable sealed cake tin so decided to go with cup cakes instead. So here it is chocolate mousse cup cakes: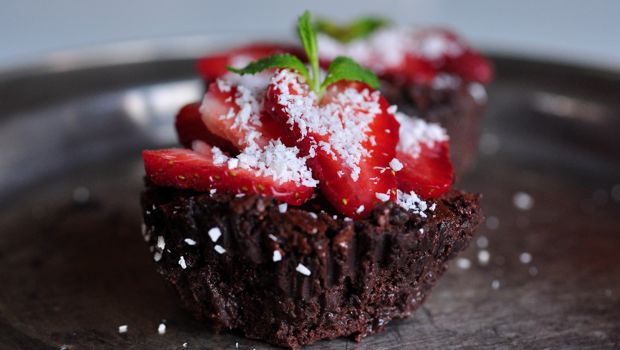 Prep time: 15 mins
Cooking time: 1 hour(ish)
Ingredients
150g fresh ripe strawberries, hulled and sliced
340g dark chocolate (70% cocoa)
225g unsalted butter
5 eggs
100ml water
225g caster sugar
3 tbsp. desiccated coconut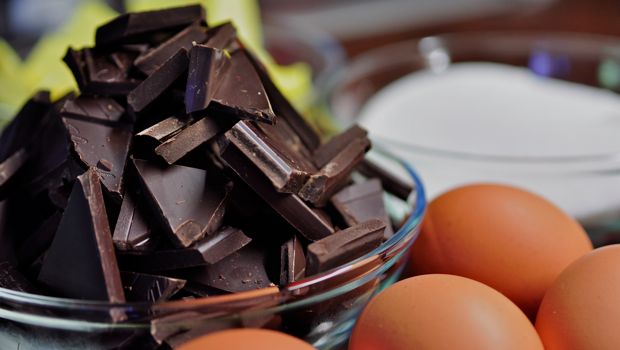 Method
Preheat the oven to 120 degrees C.
Melt the chocolate and butter in heatproof bowl over a saucepan of hot water. Be sure not to get any water in the mix though). Alternatively pop the butter and chocolate in an oven proof bowl and put in the oven for a few minutes.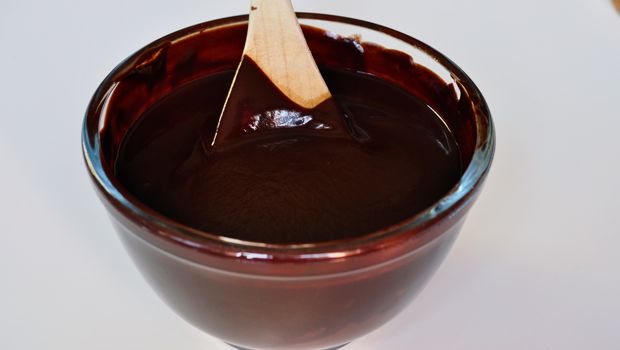 In a small saucepan heat the water with 155g of the caster sugar. Gently heat until the sugar has dissolved.
When the chocolate and butter has completely melted remove from heat and gently stir in the sugar syrup. Set aside to cool slightly.
In a large mixing bowl beat the eggs with the remaining sugar. Beat for approximately 8 minutes with an electric mixer. When finished the mix should have tripled in volume and be light and creamy.
Stir the chocolate mix to ensure there aren't any lumps in it. Then gently fold the chocolate mix into the egg mixture. Gentle beat it  (sounds like a contradiction I know), beat slowly until the chocolate is thoroughly mixed in and smooth.
Line a sealed cake tin (20cm) with baking paper, alternatively you can use a cup cake tin and cup cake cases.
Pour the mixture into the tin or evenly divide the mix into the cup cake cases.
Put the tin/cup cake tray into a large roasting tray, then pour water into the roasting tray until the water is ¾ up the side of the baking tin/cup cake tray (be careful not to get water in the cake mix).
Bake for 1 hour, I checked it at 40 minutes. The cake should be firm bouncy (like a medium rare steak), but still sticky.
Cool in the water bath.
When cooled if in a cake tin, carefully turn out and decorate with the strawberries and coconut. If you went with cup cakes just decorate and serve.