Chicken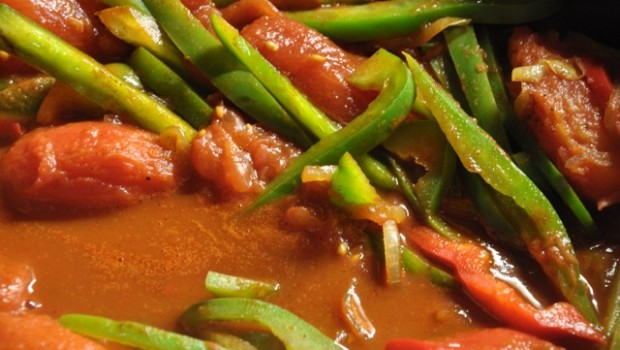 Published on April 26th, 2011 | by Gareth
5
Hungarian lecso and smoked paprika meatballs
The soggy murk that descended upon Sydney this Easter weekend was a bit of bummer, road trips and hikes are never as much fun when most things are wet or closed and the walking tracks resemble a mud wrestling contest (the mud part not the bikini clad girls part).  That said, imagine camping dad hitting the trail complete with boots, compass and thermos of tea only to come across a couple of female mud wrestlers sprawled across the path. Random but his expression would make a great facebook picture, anyway back to the lecsó and hungarian food.
All this rain isn't that bad though, it gave me a good reason to make something different for dinner. As we recently went back to Corner 75, I was inspired to make lecsó (pronounced lecho), a traditional Hungarian dish. Lecsó is a little like ratatouille and can be served as a main dish or a side.
Paprika is certainly the super hero of a lot of Hungarian cuisine. I love the combination of peppery warmth and the sweet smokey taste of paprika, the generous quantity in this dish is sure to warm your cheeks (face not bum). Also as this only really consists of 4 ingredients it's pretty easy to cook. To make it into a more substantial meal I ruined it for you vegetarians by adding smoked paprika chicken meatballs. Seriously though exclude the meatballs and its one tasty vegetable side or a good low carb vegetarian meal. A bit like a casserole but more fun and less 70s!
Preparation time:  20 minutes
Cooking time: 40 minutes
Ingredients

Smoked paprika chicken meatballs
500g minced chicken (can be substituted for pork and lamb).
1 large onion
2 cloves garlic
2 tsp dried oregano
3 tsp Smoked paprika
1 cup breadcrumbs, (3 slices of stale bread, crusts removed and blended)
Large pinch of salt
Lecsó
2 Green capsicums, deseeded and sliced lengthways
½ Red capsicum, deseeded and sliced lengthways
1 Onion
500g Fresh tomatoes or 2 tins of whole plum tomatoes
4 tsp Plain paprika
50g Shortening
Method
Smoked paprika meatballs
Blend the bread to make the bread crumbs and transfer to a mixing bowl
Roughly chop the onion then blend with the garlic for a minute then add to the bowl. If the onion paste is particularly wet squeeze the excess water out. This will help prevent the meatballs are not too soggy.
Add the remaining ingredients to make the meatballs and mix thoroughly by hand. Chill the meatball mix for 30 minutes in the fridge.  Whilst you are waiting chop all the ingredients for the lecsó.
Lecsó
Heat a large saucepan over a medium heat and add the shortening. Ideally this should be lard for authentic flavour. However if that is not available or you just don't fancy punishing the arteries you can use vegetable shortening or even canola oil.
If you are using fresh tomatoes you will need to blanche them to remove the skin. Cross the skin at the bottom of the tomato with a sharp knife. Transfer the tomatoes to boiling water for 30 seconds then transfer to a bowl of cold water. The skin will now easily peel off. Set the peeled tomatoes aside and discard the skin.
 Add the onion and cook on a very low heat until lightly browned. This should take about 10 minutes. As soon as they have become soft and honey in colour add the plain paprika and stir. Increase the heat to half way and add the tomatoes and the capsicum.
Cook over a medium heat until the majority of the liquid has reduced.
Cover and simmer over a low heat until the pepper is tender.
Whilst the lecsó is simmering heat 2 tsp of oil in a sauté or frying pan.
Remove the meatball mix from the fridge and using about 1 ½ table spoon of the roll into balls (they should be about the size of a small plum, not too big other wise it will take an age to cook). Repeat until all the mixture is used.
Carefully fry the meat balls over a low heat until they are cooked. They will become firm and golden in colour. Cook each side for a few minutes.
When the paprika meatballs are cooked add to the lecsó. Simmer for a further 5 minutes.
Serve with sour cream and a sprinkle of paprika. Obviously if you are a vegetarian skip the meatball part and serve on its own.