Desserts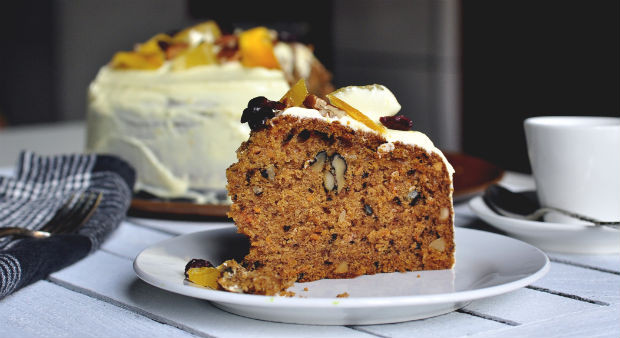 Published on January 22nd, 2016 | by Gareth
0
Carrot and pineapple cake
It's hot, humid and sticky in Sydney town this week. The coolest place in the flat is standing under a cold shower with a G&T. Everywhere else is just plain moist.
For some reason the word 'moist', provokes a reaction with most of my friends and work colleagues. Maybe it's the 'up Pompeii' style inflection I use, but generally the reaction is one of discomfort, (or sometimes knowing boyish sniggers). Anyway, when used in the context of cake, it has to be a good thing right?
Following last weeks Australia Day picnic theme; I thought I would share the best carrot cake recipe I have ever tried. It comes from the City Cake Company in Auckland New Zealand. There they transform the unassuming, bright orange tuber into something truly spectacular….and moist. Perfect for a picnic on Australia Day.
Prep time: 10 minutes
Cooking time: 1-½ hours
Equipment: Mixing bowl, electric beater and 1 spring form cake tin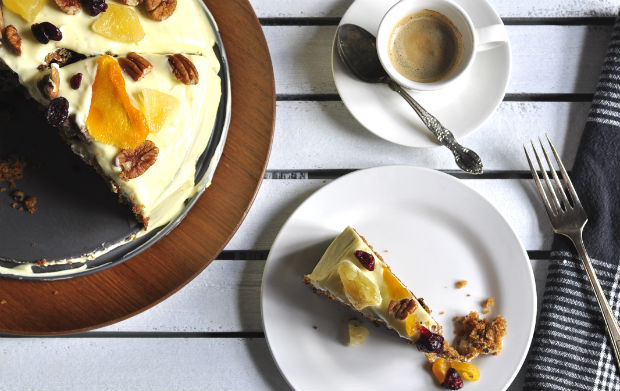 Ingredients
Dry
• 2 cups plain flour – sifted
• 2 tsp. baking soda
• 1 tsp. salt
• 1 tsp. ground cinnamon
• 1 tsp. mixed spice
Wet
• 135g well-drained, crushed pineapple (about 1 tin)
• 120g shelled walnuts – chopped
• 4 eggs
• 200g grated carrot
• 1½ cups canola oil (you could also use vege or light olive oil to be healthier)
• 1 ½ cups white granulated sugar
• ¾ cup + 2 tbsp. soft brown sugar
Icing
• 100g cream cheese (full fat)
• 90g unsalted butter – softened
• 1½ cups icing sugar
• 1 tbsp. finely chopped lemon zest/rind
Directions
• Preheat oven to 160 degrees C.
• Grease a cake tin and line it with baking paper.
• Sieve the dry ingredients into a large mixing bowl.
• Add the wet ingredients and beat for 1 minute on slow speed.
• Scrape the mix down the sides with a spatula.
• Beat for a further 2 minutes – medium speed.
• Pour the carrot cake batter into the cake tin and bake for 1½ hours.
• Check to see if cooked by inserting a skewer. If it comes our clean, it's done. If not, bake for a further 15-25 minutes.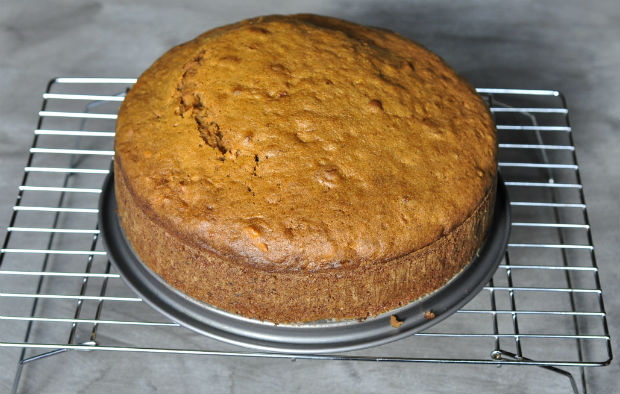 • Once baked, cool in the cake tin for 30 minutes. Then remove from cake tin to cool completely.
• To make the icing, mix all the ingredients with an electric beater on medium speed until the icing is fluffy.
• Spread the icing on the cake and store in the fridge until ready for serving.
• Serve with a fork and a spare slice of cake.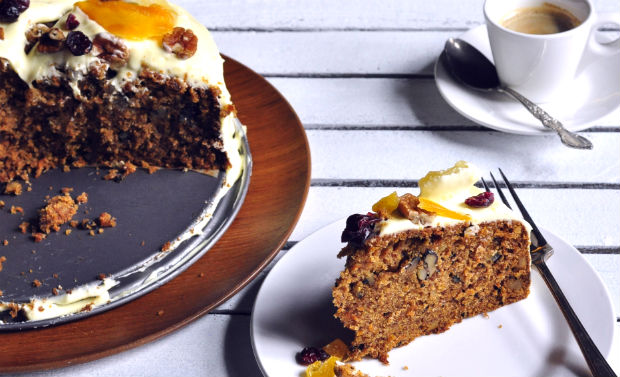 And here is the behind the scenes view, featuring my assistant: